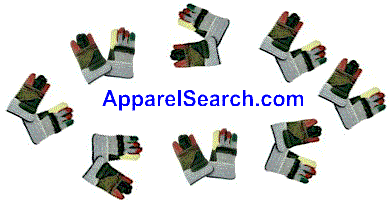 Alexander Julian Inc.
Ridgefield, CT
(203) 438-3481
(203) 438-6018
Tailored Clothing, Neckwear, Sportwear, Casual & Dress Pants, Outerwear, Underwear/loungewear/sleepwear/robes, Hoisery, Belts & Accessories, Gloves/ Scarves/ Handkerchiefs. Men's, Boy's

Amicale Industries Inc.
New York, NY
(212) 398-0300
(212) 398-0018
Cashmere / Camelhair / Wool / Silk Scarves. Men's, Boy's

Cashmere Connection: they offer pashmina and cashmere shawls, sweaters, scarves, and gloves.
E

Fumagalli's of America
50 West 57th St. 14th Floor
New York, NY 10019
Phone # (212) 956-5940
Fax # (212) 956-5948
Neckwear & Scarves for both Men's & Women's.

Galeton Gloves: Factory direct industrial gloves from a wide variety of materials.
Ironclad Performance Wear Corporation Ironclad, which created the performance work glove category in 1998, continues to lead the construction and industrial markets in innovation, technology, design, advanced material science and durability. Ironclad designs, manufactures and sells a comprehensive line of task-specific gloves and performance fabric apparel available at hardware stores, lumber yards, home centers, industrial suppliers, and sporting goods retailers nationwide.

Magid Glove & Safety (USA): Magid Glove & Safety Headquartered in Chicago, IL, Magid Glove & Safety is America's leading manufacturer, importer, distributor and direct supplier of hand protection, protective clothing, first aid, and personal protective equipment (PPE). A valued partner in safety to thousands of companies, Magid proudly offers its own signature Magid branded products as well as products from such top-quality brands as 3M, Ansell, SHOWA Best Glove, DuPont, MAPA, Moldex, MSA, North by Honeywell, Sperian, and many more. Utilizing a state-of-the-art warehouse management system, Magid ships 95% of its orders within 24 hours of receipt from the world's largest PPE inventory of over 40,000 items.
Manufacturer of Leather Work Gloves
Manufacturer of Welding & Heat Resistant Gloves
Manufacturer of Cut Resistant Gloves
Manufacturer of Knit Work Gloves
Manufacturer of Textile Work Gloves
Manufacturer of Cleanroom Gloves

Manufacturer of Handpads
Manufacturer of Heat & Flame Resistant Clothing
Manufacturer of Disposable Clothing
Manufacturer of Arc Flash & Electrical Clothing
Manufacturer of Welding Clothing
Manufacturer of Cut & Abrasion Resistant Clothing
CMT Glove Manufacturer
Men's Glove Wholesaler

Paula Hian Designs: is a manufacturer of couture womenswear located in the Manayunk section of Philadelphia. Address: 106 Gay Street PO Box 29154 Philadelphia, Pennsylvania 19127 USA Phone: 215-487-2762 Fax: 215-487-2825 Email: layla@paulahian.com Contact: Paula Hian / President
Wholesaler Item # 1: women's eveningwear
Wholesaler Item # 2: women's suits
Wholesaler Item # 3: women's jeans
Wholesaler Item # 4: women's scarves
Wholesaler Item # 5: women's dresses
Wholesaler Item # 6: women's pants
Wholesaler Item # 7: women's shirts

The Glove Source
445 Fifth Ave. 25C
New York, NY 10016
Phone # (212) 889-8281
Fax # (212) 545-1693
Accessories, Gloves.
Thank you for using the Apparel Search website.