Perfume is a mixture of fragrant essential oils and aroma compounds, fixatives, and solvents used to give the human body, objects, and living spaces a pleasant smell. If you want to smell more fabulous than your natural splendid smell, you may wish to investigate fragrances such as perfume, body sprays, aftershave lotions, etc.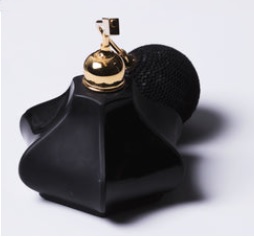 The word perfume used today derives from the Latin "per fumum", meaning through smoke. Perfume oil is necessarily diluted with a solvent because undiluted oils (natural or synthetic) contain high concentrations of chemical components (natural or otherwise) that will likely result in allergic reactions and possibly injury when applied directly to skin or clothing. As well, the scent in pure perfume oils are far too concentrated to smell pleasant. By far the most common solvent for perfume oil dilution is ethanol or a mixture of ethanol and water. Perfume oil can also be diluted by means of neutral-smelling lipids such as jojoba, fractionated coconut oil or wax.
How do you apply perfume?
The conventional application of pure perfume (parfum extrait) in Western cultures is behind the ears, at the nape of the neck, under the armpits and at the insides of wrists, elbows and knees, so that the pulse point will warm the perfume and release fragrance continuously.
Popular uses of fragrance:

Aftershave Fragrance
Body Spray Fragrance
Cologne Fragrance
Eau de Cologne Fragrance
Men's Fragrances
Men's Perfumes
Perfume Oil
Perfume
Women's Fragrances
Women's Perfumes
Beauty Products & Fragrances (Amazon)
Although the use of fragrance as perfume goes back a long way in history, modern perfumery began in the late 19th century with the commercial synthesis of aroma compounds such as vanillin or coumarin, which allowed for the composition of perfumes with smells previously unattainable solely from natural aromatics.
Perfume types reflect the concentration of aromatic compounds in a solvent, which in fine fragrance is typically ethanol or a mix of water and ethanol. Various sources differ considerably in the definitions of perfume types. The intensity and longevity of a perfume is based on the concentration, intensity, and longevity of the aromatic compounds, or perfume oils, used. As the percentage of aromatic compounds increases, so does the intensity and longevity of the scent. Specific terms are used to describe a fragrance's approximate concentration by the percent of perfume oil in the volume of the final product.
As the percentage of aromatic compounds increases, so does the intensity and longevity of the scent created. Different perfumeries or perfume houses assign different amounts of oils to each of their perfumes. Therefore, although the oil concentration of a perfume in Eau de Parfum (EdP) dilution will necessarily be higher than the same perfume in Eau de Toilette (EdT) from within the same range, the actual amounts can vary between perfume houses. An EdT from one house may be stronger than an EdP from another.
Perfume Perfumes or fragrances are liquids which can be sprayed or applied to produce a long-lasting smell. They are created by mixing different compounds together. There are different groups of perfumes which are categorized according to their concentration. A few examples, Parfum, Eau de parfum, Eau de toilette, Eau fraiche.
parfum or extrait, in English known as perfume extract, pure perfume, or simply perfume: 15–40% aromatic compounds (IFRA: typically ~20%).
esprit de parfum (ESdP): 15–30% aromatic compounds, a seldom used strength concentration in between EdP and perfume.
eau de parfum (EdP) or parfum de toilette (PdT): 10–20% aromatic compounds (typically ~15%); sometimes called "eau de perfume" or "millésime." Parfum de toilette is a less common term, most popular in the 1980s, that is generally analogous to eau de parfum.
eau de toilette (EdT): 5–15% aromatic compounds (typically ~10%); This is the staple for most masculine perfumes.
eau de Cologne (EdC): 3–8% aromatic compounds (typically ~5%). This concentration is often simply called cologne; see below for more information on the confusing nature of the term.
eau fraîche: products sold as "splashes", "mists", "veils" and other imprecise terms. Generally these products contain 3% or less aromatic compounds and are diluted with water rather than oil or alcohol.
What is cologne? Well that is a complex question.
There is much confusion over the term "cologne", which has three meanings.
The first and oldest definition refers to a family of fresh, citrus-based fragrances distilled using extracts from citrus, floral, and woody ingredients. Supposedly these were first developed in the early 18th century in Cologne, Germany, hence the name. This type of "classical cologne" describes unisex compositions "which are basically citrus blends and do not have a perfume parent." Examples include Mäurer & Wirtz's 4711 (created in 1799), and Guerlain's Eau de Cologne impériale (1853).
In the 20th century, the term took on a second meaning. Fragrance companies began to offer lighter, less concentrated interpretations of their existing perfumes, making their products available to a wider range of customers. Guerlain, for example, offered an eau de Cologne version of its flagship perfume Shalimar. In contrast to classical colognes, this type of modern cologne is a lighter, diluted, less concentrated interpretation of a more concentrated product, typically a pure parfum. The cologne version is often the lightest concentration from a line of fragrance products.
Finally, the term "cologne" has entered the English language as a generic, overarching term to denote a fragrance typically worn by a man as opposed to a woman, regardless of its concentration. The actual product worn by a man may technically be an eau de toilette, but he may still say that he "wears cologne". A similar problem surrounds the term "perfume", which is sometimes used in a generic sense to refer to fragrances marketed to women, whether or not the fragrance is actually an extrait.
You may want to research the following topics as well.
◊ Makeup
FragranceNet.com : Perfume deals, cologne, and fragrances are just the beginning. FragranceNet.com was created to provide consumers worldwide with fast, outstanding, quality, service. They carry the largest inventory of discount perfume, fragrances, skincare, candles, haircare, skin care, aromatherapy and more at the lowest possible prices. Today's top sellers are cool water, ed hardy perfume, aqua di gio, armani code, vera wang princess, dolce and gabbana light blue, clarins and coty. They only carry genuine brand name perfumes and colognes at the best possible low cheap prices. Absolutely NO imitations or knock-offs. Sign up for their newsletter and they will send you their exclusive perfume coupons. Customer reviews on perfume, cologne, skincare and celebrity perfumes will help you choose the fragrance that suits you best. FragranceNet.com has been online since 1997.
If you are eager to shop for beauty care products, you may want to learn about top beauty product brands and the best beauty product stores to find what you need.
We hope you enjoy the fragrance news, fragrance photos, perfume videos, and perfume products.