What is the difference between cosmetics and makeup?
Makeup is a type of cosmetic.
Cosmetics are constituted mixtures of chemical compounds derived from either natural sources, or synthetically created ones. Those designed for personal care and skin care can be used to cleanse or protect the body or skin.
Cosmetics designed to enhance or alter one's appearance would be considered makeup.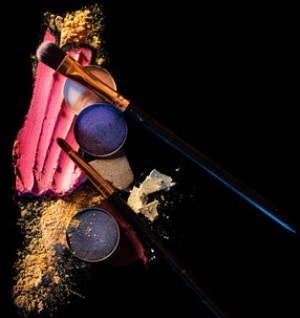 Makeup can be used to conceal blemishes, enhance one's natural features (such as the eyebrows and eyelashes), add color to a person's face, or change the appearance of the face entirely.
Cosmetics can also be designed to add fragrance to the body.
Cosmetic Tips to Consider
Research natural options when possible. A variety of organic compounds and inorganic compounds comprise typical cosmetics. Typical organic compounds are modified natural oils and fats as well as a variety of petrochemically derived agents. Inorganic compounds are processed minerals such as iron oxides, talc, and zinc oxide. The oxides of zinc and iron are classified as pigments, i.e. colorants that have no solubility in solvents. Cosmetic companies have become more transparent in the ingredients of their products because consumers are interested in the formula of their products.
Handmade and certified organic products are becoming more mainstream, due to the fact that certain chemicals in some skincare products may be harmful if absorbed through the skin.
The term "mineral makeup" applies to a category of face makeup, including foundation, eye shadow, blush, and bronzer, made with loose, dry mineral powders. These powders are often mixed with oil-water emulsions. Lipsticks, liquid foundations, and other liquid cosmetics, as well as compressed makeups such as eye shadow and blush in compacts, are often called mineral makeup if they have the same primary ingredients as dry mineral makeups. Liquid makeups must contain preservatives and compressed makeups must contain binders, which dry mineral makeups do not. Mineral makeup usually does not contain synthetic fragrances, preservatives, parabens, mineral oil, and chemical dyes. For this reason, dermatologists may consider mineral makeup to be gentler to the skin than makeup that contains those ingredients.
Choose the proper brush for your application needs. A makeup brush is used to apply makeup onto the face. There are two types of makeup brushes: synthetic and natural. Synthetic brushes are best for cream products while natural brushes are ideal for powder products. Using the appropriate brush to apply a certain product allows the product to blend into the skin smoothly and evenly. A foundation brush is usually a dense brush that distributes the product evenly while smoothing out the face. This brush is best used to achieve full coverage. A concealer brush has a small, tapered tip that allows for precise spot correction such as blemishes or discoloration. A stippling brush has soft, synthetic bristles that gives an airbrushed effect. This brush is best used to achieve light to medium coverage. A blush brush comes in all shapes and sizes and is used to apply blush, allowing the blush to look natural while giving a flush of color. A powder brush tends to be big and fluffy for quick and easy application of dusting powder all over the face. Powder gives the appearance of a matte effect. A bronzer blush, which can also serve as a contour brush is an angled brush that gives the face dimensions and illusions, by allowing the makeup to be placed in substitution of bone structure. This brush can also be used to add a shimmering highlight illusion to the cheekbones, nose and chin. A highlight brush, also known as a fan brush, has bristles that are typically spread out and is used to apply where the sun would naturally hit. An eyeshadow brush is a dense brush that allows shadow to be packed onto the eyelid. A blending eye shadow brush is used to blend out any harsh lines you may have from the eyeshadow and can soften the eye shadow look. An eyeliner brush is tapered with an extra fine tip used for gel eyeliners which allows precision to line the eyes. A spoolie is used to brush out the eyebrows and can also be used as a mascara wand. A lip brush is small to ensure precision and is used to apply lipstick evenly onto the lips. An eyebrow brush is tapered and is slanting from the top, which tends to define the eyebrows and fill in the empty spaces between brows, to give them a fuller and denser look. A Kabuki brush is used to apply any sort of powder makeup on large surfaces of the face (loose powder, foundation, face powder, blush, bronzer). This brush is used to evenly the skin.
Exfoliate the Skin - Loofahs, microfiber cloths, natural sponges, or brushes may be used to exfoliate skin, simply by rubbing them over the face in a circular motion. Gels, creams, or lotions may contain an acid to encourage dead skin cells to loosen, and an abrasive such as microbeads, sea salt and sugar, ground nut shells, rice bran, or ground apricot kernels to scrub the dead cells off the skin. Salt and sugar scrubs tend to be the harshest, while scrubs containing beads or rice bran are typically very gentle.
Keep the skin clean before and after utilizing makeup. Cleansers or foaming washes are used to remove excess dirt, oil, and makeup left on the skin. Different cleansing products are aimed at various types of skin, such as sulfate-free cleansers and spin brushes. Cleansing oil or oil cleanser is an oil-based solution that gently emulsifies the skin's natural oils and removes makeup. Cleansing oils are typically used as part of a two-step cleansing process. After the skin has been cleansed with an oil cleanser, a second cleanse is done using a mild gel, milk or cream cleanser to ensure any traces of the oil cleanser and makeup are removed.
Don't forget the toners. Toners are used after cleansing to remove any remaining traces of cleanser and restore the pH of the skin. They also may add some hydration. They are usually applied to a cotton pad and wiped over the skin, but can be sprayed onto the skin from a spray bottle or poured onto the hand and patted directly onto the skin. Toners usually contain water, citric acid, herbal extracts and other ingredients. Witch hazel is still commonly used in toners to tighten the pores and refresh the skin. Alcohol is used less often as it is drying and can be irritating to the skin. It may still be found in toners specially for those with oily skin. Some toners contain active ingredients and target particular skin types, such as tea tree oil, salicylic acid, or glycolic acid.
Careful Selecting Color - Color may be identified by a name, number, letter, or any combination of the three. However, unlike the Pantone or Munsell systems used in the art and fashion industries, commercial cosmetic product names are not standardized. If a make-up artist requests a "Medium Beige" foundation, the result can vary drastically from brand to brand, and sometimes, within one brand across different formulas. Cosmetic companies can also edit and adjust their formulations at any time, resulting in the 'Medium Beige' foundation a consumer has been wearing for years becoming a slightly different shade or color without prior notice.
Don't forget the lips need love also. Lip balm or lip salve is a wax-like substance applied topically to the lips to moisturize and relieve chapped or dry lips, angular cheilitis, stomatitis, or cold sores. Lip balm often contains beeswax or carnauba wax, camphor, cetyl alcohol, lanolin, paraffin, and petrolatum, among other ingredients. Some varieties contain dyes, flavor, fragrance, phenol, salicylic acid, and sunscreen.
Learn about the subset of cosmetics called makeup. Here are a few decorative cosmetic categories to consider.
Do you know how to properly apply makeup?
Eye liner has many tips & tricks to research. Tight lining is the use of eye liner tight against the waterline under the lashes of the upper lid, and above the lashes of the lower lid. Due to the proximity to the membranes, and the surface of the eye itself, waterproof eye liner is preferred. Tight lining is a technique which makes the eyelashes appear to start farther back on the eyelid, thus making them look longer. Gel eye liner and a small angled brush may be used to create this look. A cat eye looks similar to a winged liner. But, it has a thicker wing that involves the bottom and the top lash line. Winged eye liner defines the shape of the top eyelid and extends to a point or 'wing' about halfway toward the end of the eyebrow.
Eye shadow can add depth and dimension to one's eyes, complement one's eye color, make one's eyes appear larger, or simply draw attention to the eyes. Eye shadow comes in many different colors and textures. It is usually made from a powder but can also be found in liquid, pencil, cream or mousse form. Eye shadow can be applied in a wide variety of ways depending upon the desired look and formulation. Typically application is done using fingers or brushes. The most important aspect of applying eye shadow, and makeup in general, is blending well. However, you must not forget to include a primer to limit the chances of creases in your eye shadow later.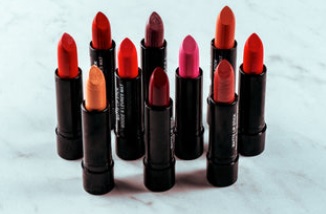 Lipstick the color matters. Throughout the early 20th century, lipstick came in a limited number of shades. Dark red lipstick was one of the most popular shades throughout the 19th and 20th century, especially in the 1920s. In the early 1930s, Elizabeth Arden began to introduce different lipstick colors. She inspired other companies to create a variety of lipstick shades. By the 1950s, movie actresses Marilyn Monroe and Elizabeth Taylor helped bring back dark red lips. In the 1950's, Lipstick manufacturers began creating lipsticks in lavender, pale pink, white, and peach. Since parents generally frowned on teen girls wearing red lipstick, some teen girls began wearing pink and peach lipsticks, which became a trend. White or nearly white lipstick was popular in the 1960s. In the 1970s, a number of cosmetic companies introduced lipsticks in more unusual colors such as iridescent light blue (Kanebo), frosted lime green (Conga Lime by Revlon), and silver sparkled navy blue (Metallic Grandma by Biba). MAC cosmetics continues to release limited edition and highly collectible lipsticks in a wide range of colors and finishes, including unusual hues of violets, blues, and greens. Black lipstick became popular in the late 1970s and into the 1990s. In the 1990s, lipstick colors became semi-matte. Shades of brown were very popular. These shades were inspired by several shows, such as "Friends". In the late 1990s and into the 21st century, pearl shades became very popular. Lipsticks were no longer matte or semi-matte, but were shiny. In 2012, bright bold lip colors became trendy again with saturated colors such as hot pink, neon, and orange. American singer-songwriter Taylor Swift boosted the popularity of red lipsticks, especially with the release of her fourth studio album, Red (2012), whose cover artwork prominently features red lips. In 2014 and early 2015, nude lipsticks became popular. These lipsticks follow the general trend where "less is more". The trends come & go, so go with a color that is right for you.
Nail polish don't forget your coats. The base coat is a clear, milky-colored, or opaque pink polish formula that is used specifically before applying nail polish to the nail. Its purpose is to strengthen nails, restore moisture to the nail, and help polish adhere to the nail. It prevents staining and extends the lifespan of the manicure. Some base coats are marketed as "ridge fillers", and can create a smooth surface, de-emphasizing the ridges that can appear on unbuffed nails. Some base coats, called "peel off base coats", allow the user to peel off their nail polish without using a remover. The top coat is a clear colored polish formula that is used specifically after applying nail polish to the nail. It forms a hardened barrier for the nail that can prevent chipping, scratching and peeling. Many topcoats are marketed as "quick-drying." Topcoats can help the underlying colored polish dry quickly as well. It gives the polish a more finished and desired look and may help to keep the polish on longer.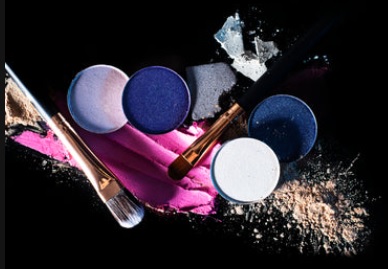 Which face powder to use? Modern face powders are currently available in different types to serve multiple functions. The six main types of face powder include loose powder, pressed powder, mineral powder, translucent powder, HD powder and finishing powder.
Loose powder can be translucent or colored and is generally packaged in a jar. It has a fine consistency with small particles and is used to give light coverage to the skin for a smooth, silky texture. Colored loose powders work to minimize redness by color-correcting. Loose powder is also used to set make-up, meaning it locks in the foundation and concealer underneath to smoothen out the complexion and limit cracks and lines in the skin.

Pressed powder is available in different shades and is sold in a compound container. It is compressed to provide a travel-friendly product for on-the-go touch-ups. Pressed powders give coverage to the face, concealing blemishes and discoloration, therefore can be used as a light coverage foundation. The particles in pressed powder are larger than those in loose powder and can give off a thick, clotted appearance when overused. Pressed powder can also be used for setting makeup.

Mineral powder comes in a loose powder form consisting of vitamins and minerals. It contains a mix of iron, zinc and titanium dioxides, as well as talc, providing health benefits to the skin including anti-inflammatory qualities. Mineral powders also limit the clogging of pores and are usually fragrance and preservative free.

Translucent powder is available in both pressed and loose forms. Its use is to mattify the skin to reduce oiliness and shine. It can be used for the 'baking' application technique, by brightening up certain areas of the face, offering a long-lasting wear.

High definition powder (HD powder) is mainly used for people featuring in high-definition film and video to prevent camera flashback, which is the white patches of powdered areas that are highlighted by a camera flash. Available in both pressed and loose forms, HD powder can reduce skin shininess, soften out the skin and mattify it.

Finishing powder is mainly used to minimize fine lines and pores. It can even out the skin texture and blur out imperfections, used as a final product to complete makeup. It is available in both pressed and loose forms.
Natural Makeup Looks for an Active Lifestyle
Here is another makeup tip that is very important. Wash your hands before touching your face.
You may want to also review the following areas of our site: