Anne Jacqueline Hathaway (born November 12, 1982) is an American actress. After several stage roles, she appeared in the 1999 television series Get Real. She came to prominence after playing Mia Thermopolis in the Disney film The Princess Diaries (2001) and in its 2004 sequel. Since then, Hathaway has starred in dramatic films such as Havoc and Brokeback Mountain, in 2005. She has also starred in The Devil Wears Prada (2006) with Meryl Streep and in Becoming Jane (2007) as Jane Austen. Her father, Gerald Thomas Hathaway, is a lawyer, and her mother, Kathleen Ann "Kate" (née McCauley), is an actress who inspired Hathaway to follow in her footsteps. Hathaway's mother played Fantine in the first U.S. tour of Les Misérables. In the opinion of Apparel Search, we find it amazing that her mother performed in the theater and Anne played Fantine from the 2012 movie Les Misérables.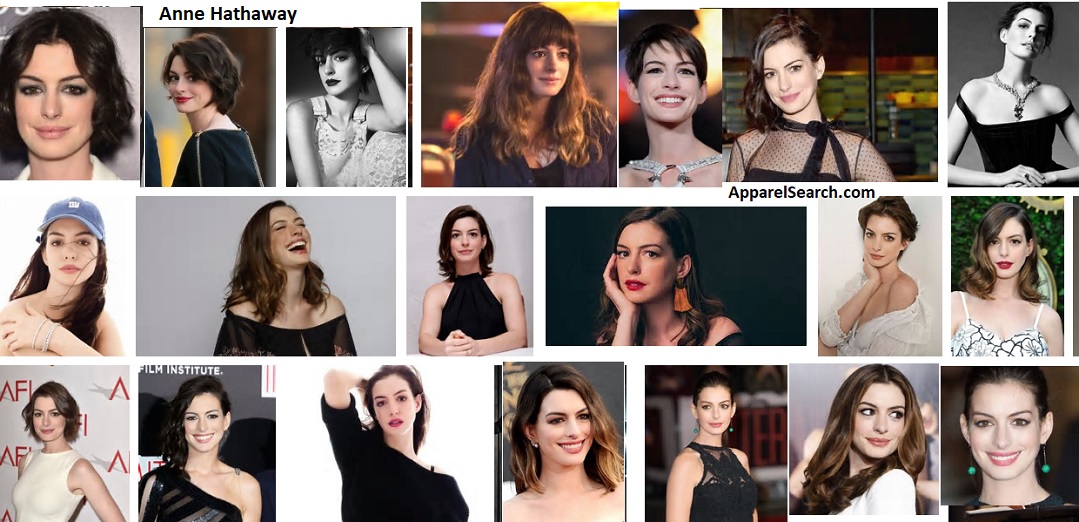 Apparel Search has selected Anne Hathaway as a fashion celebrity.

| | |
| --- | --- |
| Bing Search Results: | Google Search Results: |

Apparel Search guide to Anne Hathaway photos, Anne Hathaway videos, Anne Hathaway news, Anne Hathaway blog posts and more. If you are interested in fashion and style, you will be interested in Anne Hathaway.
Female Fashion Celebrities:
A fashion celebrity, in the opinion of Apparel Search, is a person that has celebrity status and is often watched and judged for what they wear. Here are a few more fashion celebs that you can review.
The term glamour was originally meant to be; a spell cast over someone, particularly to change how things appeared to them. The primary modern meaning of the word relates to fascination, charisma, beauty, or attraction. Celebrities are often referenced as glamorous. In addition to celebs being glamorous, regular every day people, or their lifestyles, can be described as glamorous. Although many words which end in "our" in British English are spelled with "or" in American English, "glamour" is an exception with the "u" usually being retained. This may be due to its original being Scottish rather than French or Latin. The alternative spelling "glamour" is sometimes used in American English, but not as frequently. Also, Glamour in modern day is occasionally abbreviated as simply Glam.