Converse is an American shoe company that primarily produces basketball shoes and lifestyle brand footwear and apparel. The company was founded in 1908. During World War II, the company shifted its manufacturing from the public, and instead made footwear for the military. It was one of the few producers of athletic shoes and for over a half century the company dominated the American court shoe market. The footwear and clothing brand has been a subsidiary of Nike, Inc. since 2003.
Converse has been making Chuck Taylor All Star and OneStar sneakers since they started over a century ago, and now they work to make new street style classics. What you wear defines sport, street, and creative culture, and their company has been redefining it with you all along. When you wear Converse products, you create a culture of authentic street style simply by being yourself. Learn more about the Chuck Taylor All Star sneakers.
You may also have interest in learning about the Chuck Taylor II sneaker.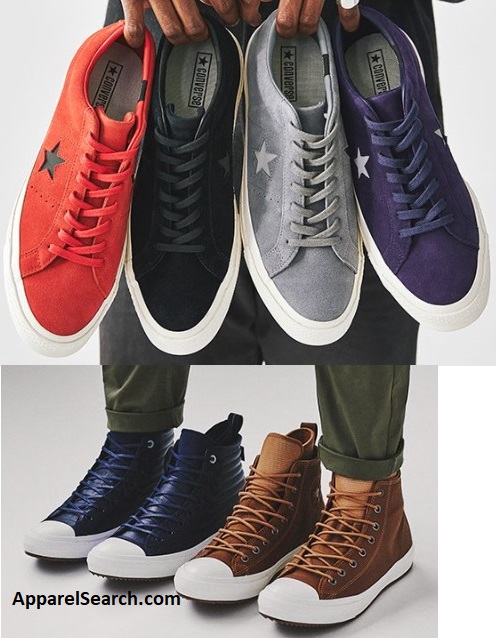 Learn about the men's converse shoes and clothing brand at their website https://www.converse.com/.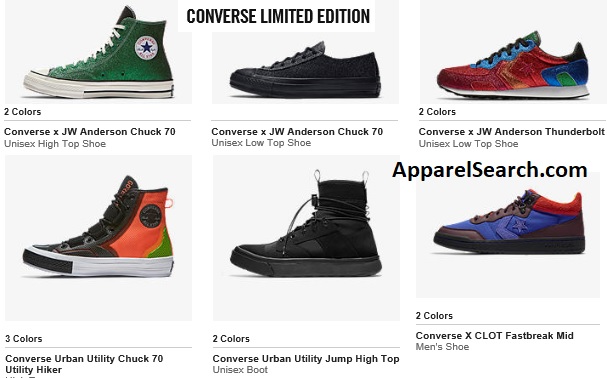 If you have changed your mind and do not wish to research the brand Converse, you can use the search engine on this page to find another clothing label that may be of more interest.
Research additional men's fashion brands from the following pages of our directory.
Have you seen our Fashion Designer Directory section?
Apparel Search is a leading guide to fashion, style, clothing, glam and all things relevant to apparel. We hope that you find this Converse page to be helpful.
What ever athletic apparel you are wearing today is in style for certain.
Nice selection of shoes and clothing, don't you agree?

Converse