Founded in 1902, the company produced uniforms for a wide range of sports, such as American football, basketball, baseball, softball and volleyball. At the turn of the century in Alabama, cotton was king, but football was a close second. For Benjamin Russell, growing up on Alabama developing a sports clothing brand was a good move.
On March 3, 1902, Russell Athletic was founded by 26-year-old Benjamin Russell as the Russell Manufacturing Company in Alexander City, AL. The tiny factory had 10 sewing machines and 8 knitting machines. Russell Manufacturing Company's first garment was a women and children's knit shirt.
In 1926, Founder Ben Russell's son, Benny, came to his dad with a new idea for an all-cotton practice football jersey replacing the itchy, chafing wool uniforms worn at that time. Knowing the comfort and durability of cotton, the iconic sweatshirt began production in the Russell Athletic mills in 1930.
Russell Athletic is an American athletics brand, it is the main brand of eponymous American company and its manufacturer and marketer Russell Brands, LLC.. The company supplied jersey uniforms and apparel for many professional sports teams of the major leagues in the United States of America, and also colleges, universities, minor league teams until it shut down its team uniform division in 2017. Today, the company primarily focuses on activewear for the consumer market.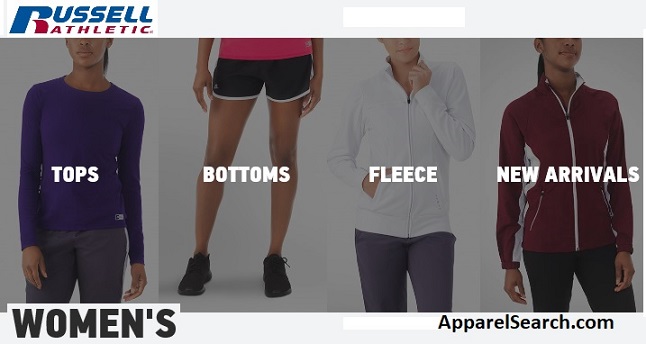 Learn more about the women's Russell Athletic clothing brand.
Shop for ladies polos, socks, sweatshirts, hoodies, pants, fleece tops, sweatpants, and much more.
If you enjoy athleticwear, you may want to visit our activewear guide in our new fashion influence section.
If you have changed your mind and do not wish to research the brand Russell, you can use the search engine on this page to find another clothing label that may be of more interest.
When you are ready to research additional fashion brands for women you can try the following pages to find our alphabetical list of women's fashion brands.
Have you seen our Fashion Designer Directory section.
Apparel Search is a leading guide to fashion, style, clothing, glam and all things relevant to apparel. We hope that you find this Russell page to be helpful.
The clothing that you are wearing today is most definitely in style. You are clearly a trendsetter.
With legacies like the invention of the sweatshirt, Russell Athletic® has played an integral role in developing apparel that performs since 1902.

Russell