Wacoal is a manufacturer of women's lingerie and underwear, founded in 1949 in Japan by Koichi Tsukamoto. They design bras, panties, shapewear, and lingerie.
Wacoal is known for designing exceptional lingerie that combines great fit and function with beautiful design. Wacoal provides exemplary service which contributes to lasting consumer trust and confidence. Their quality materials, meticulous attention to fit, superior technology and beautiful design provides a superlative wearing experience of great comfort, support, and longevity.
The company has divisions in North America and Europe, and manufactures the brands Wacoal, b.tempt'd, Elomi, Eveden, Fantasie, Freya, and Goddess.
In 1985, Wacoal launched its brand in America, with the same dedication to excellence and innovation. Wacoal had a philosophy that was quite simple and unique – make the best fitting and most comfortable products with high quality materials and workmanship backed by world class service. Although their prices were higher than most and with no sale offering, the ultimate judge was the consumer. Ultimately, their success comes from always putting the consumer first and maintaining a constant focus on making innovative, long lasting products that truly perform. In 2009, Wacoal America launched a new line aimed at a younger fashion consumers called b.tempt'd. This line offers the same celebrated fit and quality Wacoal is known for.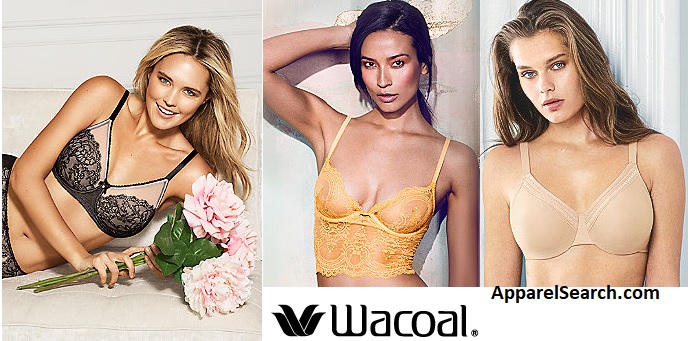 Learn more about the Wacoal lingerie brand.
Wacoal's lingerie for women is known for its exquisite details and sophisticated designs. Their lingerie includes bras, panties and coordinating pieces crafted from luxurious fabrics and laces. You'll love to live in Wacoal's high-quality lingerie.
You may also want to learn more about bras in the bra glossary.
If you have changed your mind and do not wish to research the brand Wacoal, you can use the search engine on this page to find another clothing label that may be of more interest.
When you are ready to research additional fashion brands for women you can try the following pages to find our alphabetical list of women's fashion brands.
Have you seen our Fashion Designer Directory section.
Apparel Search is a leading guide to fashion, style, clothing, glam and all things relevant to apparel. We hope that you find this Wacoal page to be helpful.
The clothing that you are wearing today is most definitely in style. You are clearly a trendsetter.
Wacoal has become the leading bra brand in many fine department and specialty stores.

Wacoal