Welcome to the worlds greatest guide to Women's Blazers. Are you actually looking for Women's Blazers?
A blazer is a type of jacket resembling a suit jacket, but cut more casually. A blazer is generally distinguished from a sport coat as a more formal garment and tailored from solid color fabrics.
A women's blazer can make a lasting impression at an interview or when on the job. However, they are not only for the office. Boyfriend blazers, cutaways, or classics can provide a trendy outfit for work or casual settings.
What should be worn with a blazer?
This garment has a bit of flexibility. Blazers are worn with a wide variety of other clothes, ranging from a dress shirt and necktie to an open-necked polo shirt, or even just a plain T-shirt. Women can go with with a nice blouse or go with something a bit more revealing.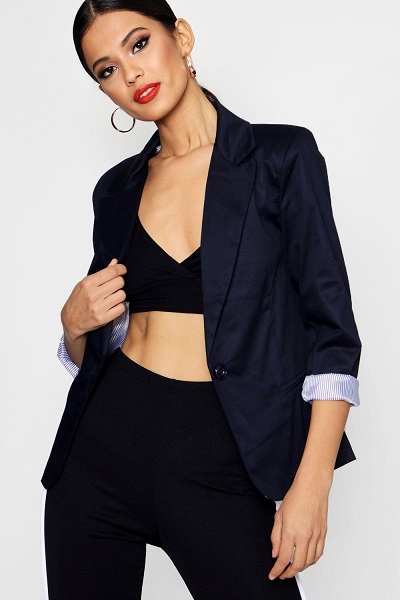 Origin of the term: The sartorial term blazer originated with the red "blazers" of the Lady Margaret Boat Club (1825), the rowing club of St. John's College, Cambridge. The Lady Margaret club jackets were termed blazers because of the bright red cloth, and the term survived the original red coat.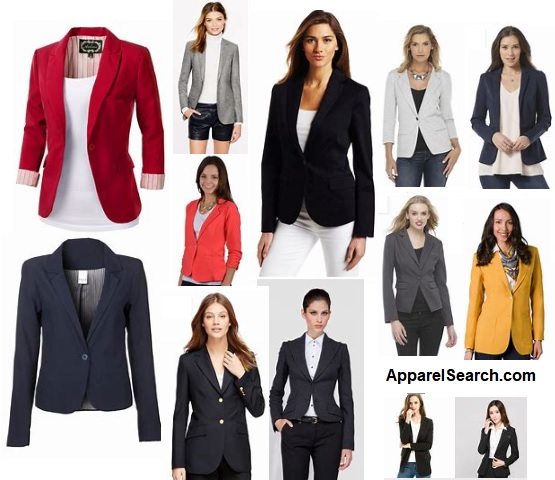 How do you wear a boyfriend blazer?
Since a boyfriend blazer is meant to be larger and longer, pick pieces underneath that are more form fitting like a bodycon dress or cami tucked into jean leggings. Try rolled up sleeves, a belt or even faux leather leggings with your new oversized jacket. It's all about balance!
What is the classic blazer style?
A blazer's cloth is usually durable, as it is intended as outdoor wear. Blazers often have naval-style metal buttons to reflect their origins as jackets worn by boating club members.
The perfect classic piece to add to your work wardrobe, this blazer goes great with any style dress pant, flats or heels.
How do you wear a blazer with jeans?
Blazers aren't just business professional anymore. Skip the matching suit pants and grab a pair of your favorite jeans. Switch out your typical leather jacket or cardigan for a night out with a colorful blazer to make a bigger and bolder statement.