Stay comfortable throughout the day wearing women's briefs. You can go about your day or lounge around the house comfortably. Wearing this style of underwear offers more support and coverage than other panties.
Briefs are close-fitting legless underpants that are cut so as to cover the body to the waist, in contrast to a bikini.
Briefs refer to a style of women's and girls' panties that is typically cut with a high waist to provide full coverage of the hips and buttocks.
Panties in American English (typically called knickers in British English) are a form of underwear worn by women. Panties are most often form-fitting, but may also be loose.
Classic briefs feature sides that extend below the hip. Sometimes these are called "granny panties" by young women.
French-cut or high-cut briefs expose more of the front part of the thigh. Are designed with sides that are somewhat narrower.
Boy briefs or boy shorts have short legs, similar to men's boxer briefs, often combined with a lower waist. this style is usually lower cut, and is designed to fit and flatter a woman's figure. Boy shorts often cover most of the buttocks area, therefore keeping privacy at maximum while still having comfort
A control brief is a kind of high-waisted panty girdle. Control briefs are designed to offer support while giving a slimmer appearance. This type usually contains a stretch material such as spandex and may extend above the waist.
Briefs is also the name given to costumed outerwear worn by female dancers and athletes in sports such as cheerleading, figure skating, and tennis. These briefs are typically worn under a short skirt; they may be attached to the skirt or dress body, or a separate garment ("cheer briefs").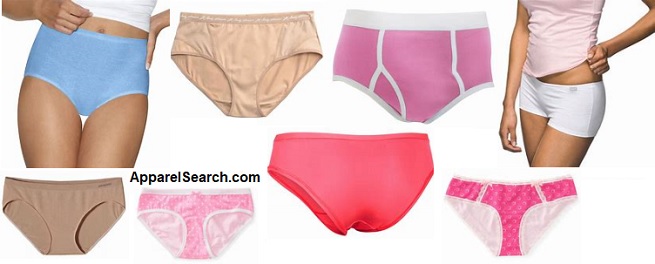 This type of underwear is often sold as single units or in packs. For example, 3-pack, 5-pack, etc.
No ride up briefs are often a good choice.
Learn about other types of women's fashion from the sections below.
You may also have interest in learn about knickers in our fashion production section.
Do you have a favorite style of underwear?

Thank you for using the Apparel Search website.