Capri pants are pants that are longer than shorts but are not as long as full length pants that go down to the wearers ankles. They typically come down to between knee and calf or ankle length.
Capri pants have a wide variety of terms associated with the style. They are also known as Three quarter pants, capris, crop pants, pedal pushers, clam-diggers, flood pants, jams, highwaters, culottes, or toreador pants.
What is the proper length of a capri pant? Well, that depends. How long are your legs? Capri pants, which are also called cropped pants, are typically mid-calf-length pants. The standard length for capris is midway between the ankle and the knee. It would be important to try them on, to see where the bottom of the pant lies on your leg.
Women's capri pants can be produced from a wide variety of fabrics and styles. They can be made as jeans, cargo pants, etc. They can be designed for an appearance of casual or a bit dressy.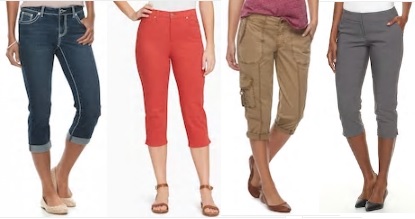 Apparel Search is a leading guide to fashion, style, clothing, glam and all things relevant to apparel. We hope that you find this Women's Capri Pants page to be helpful.
You may also have interest in clam digger pants.
What ever type of trouser you are wearing today is in fashion.
If you want to be even more stylish, you should wear your trousers.

Thank you for using the Apparel Search website.