Are you planning to go clamming, or simply wish to look fashionable? Either way is fine with us.
Have you ever walked on the beach with long pants? If you went close to the water, you most likely had rolled up the bottom of your pants.
Clam diggers are pants that end between the knee and ankle. They are typically considered beachwear and are worn in casual settings. Another name for this type of pant is a capri.
It is all about the length. This style of pant can be made in a wide variety of fabrics, colors, pocket options, trimming, etc.
Capri pants (also known as three quarter pants, capris, crop pants, pedal pushers, clam-diggers, flood pants, jams, highwaters, culottes, or toreador pants) are pants that are longer than shorts but are not as long as trousers. They typically come down to between knee and calf or ankle length.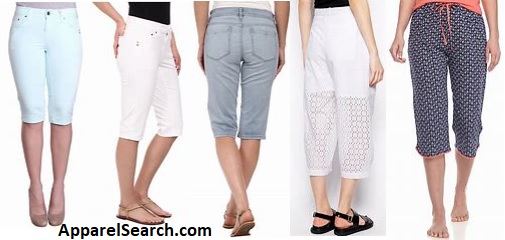 How do you think clam diggers got their name? Most likely because if you go clamming, you don't want to wear full length pants.
You do NOT have to go clam digging in your clam diggers.
A clam is a common name for several kinds of bivalve molluscs. The word is often applied only to those that are edible and live as infauna, spending most of their lives partially buried in the sand of the ocean floor. If you want to catch one, you have to go digging. And if you go digging in the water while wearing long pants, "what should you do?". Yes, you should roll up your pants. OR wear pants that don't have fabric going all the way down to your ankles.
If you decide to wear a skirt, you may want to wear a skort because you will be bending over a great deal as you are picking up all of those clams from the sand.
Note: If you plan to be on the beach or go in the water, we suggest shorts or swimsuits.
Apparel Search is a leading guide to fashion, style, clothing, glam and all things relevant to apparel. We hope that you find this ladies clam digger page to be helpful.
What ever type of trouser you are wearing today is in style.
If you want to be even more stylish, you should wear your favorite trousers today.

Return to the Women's Clothes Directory C main page.
Thank you for using the Apparel Search website.