Welcome to the worlds greatest guide to Women's Costumes.
Are you actually looking for ladies costumes? Well, we hope you are because the reality is that you have found our page on the topic. In this women's clothing section of the Apparel Search directory, you will find all sorts of interesting information regarding costumes for women.
The word costume actually has a few meanings. The first thing that comes to my mind when I think of costumes would be Halloween and Comic Con. Who do you want to be today? When wearing a costume you can become who ever you wish. Halloween costumes traditionally take the form of supernatural creatures such as ghosts, vampires, pop-culture icons, comic book characters, etc.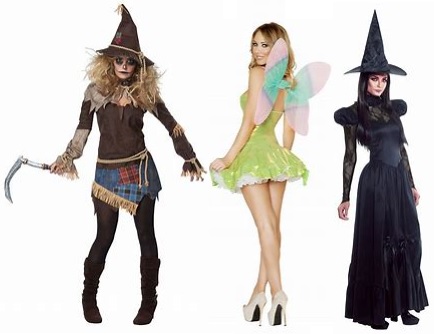 The term "costume" also was traditionally used to describe typical appropriate clothing for certain activities, such as riding costume, swimming costume, dance costume, and evening costume.
The word is also used to describe a set of clothes in a style typical of a particular country or historical period.
This general usage has gradually been replaced by the terms "dress", "attire" or "wear" and usage of "costume" has become more limited to unusual or out-of-date clothing and to attire intended to evoke a change in identity, such as theatrical, Halloween, and mascot costumes.
Costume often refers to a particular style of clothing worn to portray the wearer as a character or type of character at a social event in a theatrical performance on the stage or in film or television.
What is the origin of the word? Costume comes from the same Italian word, inherited via French, which means fashion or custom.
In addition to Halloween fashion, women's costumes are important for other holidays, festivals and parades. Sporting events are another place you will be able to find interesting costumes. Costumes are often worn at sporting events, during which fans dress as their team's representative mascot to show their support.
Cosplay, a word of Japanese origin that in English is short for "costume play", is a performance art in which participants wear costumes and accessories to represent a specific character or idea that is usually always identified with a unique name (as opposed to a generic word). These costume wearers often interact to create a subculture centered on role play, so they can be seen most often in play groups, or at a gathering or convention. Cosplay, a contraction of the words costume and play.
So many gorgeous women's costumes, so many stunning looks. It is too bad there's only "one" of you. Don't worry, you will always have next year to wear another. If you visit a costume retailer in a store or online, you will have hundreds or thousands of affordable outfits at your fingertips. You can transform into the character of your dreams.
Popular women's costumes include:
Witches
Pirates
Angels
Princess
Super Heros
Movie Characters
By the way, the woman of the year 2017 was known for wearing a marvelous outfit that many other women know wear as a costume in tribute to her.
Apparel Search is a leading guide to fashion, style, clothing, glam and all things relevant to apparel. We hope that you find this Women's Costumes page to be helpful.
What ever you are wearing, is in fashion.
Learn about women's pirate clothing.
If you want to be even more stylish, you should wear your Women's Costumes.

Thank you for using the Apparel Search website.