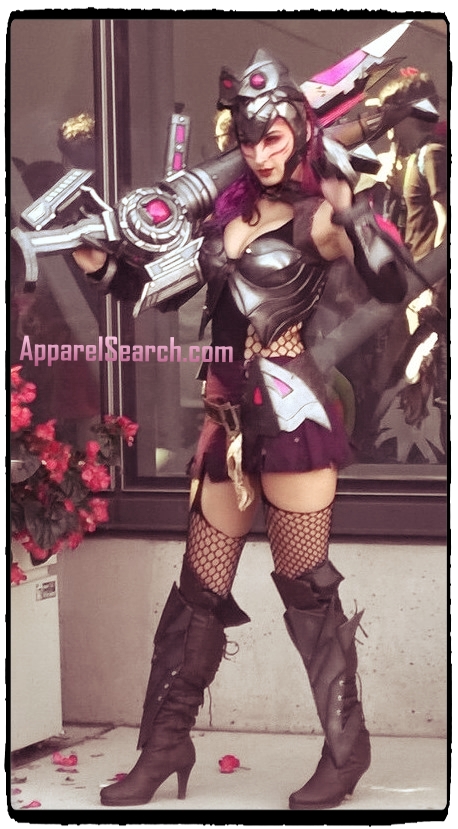 ---

Blossom Costumes (Australia): Blossom costumes have 100's of costumes for your next themed party or event. Everything from the Roaring 20's to modern day Hollywood and everything in between. Address - 214 Settlement Rd, Thomastown, Vic, 3074 Phone - 03 90775664 E-mail - blossomaccessories@gmail.com
---

Costumes4less.com: Costumes4Less.com is a premier online retailer of Halloween Costumes. They have over 10,000 styles, colors and sizes. Here, you will find a costume for any theme and any budget for Adults, Children, Teens quality brands at guaranteed low prices. Address 7625 Rosecrans Avenue #4 Phone CORPORATE OFFICE: 562-314-4879 Fax 562-633-9424 E-mail nick@costumes4less.com Contact: Nick Pardasani
---

Costume Supercenter: They offer thousands of costumes, props, accessories, and more at prices way lower than their competition. No matter what event you're dressing for, they have got you covered. Their site also hosts a large array of Halloween resources and guides (like a Star Trek uniform infographic, period dress guides and tutorials, and informational pages). Their site has it all! Address: 45 Fernwood Ave, Edison, NJ 08837 · 888-575-5575 info@costumesupercenter.com

---

Dance Costumes: Carries dance costumes for kids and adults. Find jazz dance costumes, basic warm-ups and leotards, dance team costumes, or theme costumes for your recital. Costumes ship quickly and can be ordered for individuals or groups. Address: North Mankato, MN Phone: 507-386-0207 Fax: 507-386-0517 Contact: Tom Fallenstein
---

Dixon Costumes Inc.: A full service costume site featuring costumes, masks, wigs, hats, make-up, and all costume related items. Address: 5430 SW 8th St.Coral Gables Florida 33134 USA Phone: 305-444-5332 or 1-800-727-7313 Fax: 305-444-2097 Email: sales@dixoncostumes.com
Contact: Nelson Dixon/ President
Gender: All
Store Type: Online and Brick & Mortar
Retail Category: Specialty (Costumes)
---

Fantasy Costume Company (subsidiariy of Lady & The Fool Inc.): Halloween Costumes, Adult Costumes, Child Costumes, Renaissance Costumes Everything you need for any Costume or Costume Rental!! Los Angeles Costume Shop & Costume Rentals
---

Flapper Costumes.com: FlapperCostumes.com: offers 1920's style flapper dresses. Available in regular and plus sizes. Adress: 1014 South Front Street Mankato, Minnesota 56001. USA Phone:507-386-0207 or FAX: 507-386-0517 Email: staff@flappercostumes.com Contact: Tom
Gender: Women

'

s
Store

T

ype: Online Retailer
Retail

Category: Specialty

(Flapper Costumes)
---

LostInVictorian: Dedicated for supplying quality historical clothing ranging from Medieval age to the late 19th Century, perfect for theme weddings, SCA, LARP, stage and costume parties! Address: No.135, Zhihe Street,Yongtai, Baiyu District, Guangzhou 510410, China Phone: 86-18502009258 E-mail: service@lostinvictorian.com Contact: Michelle Yao
Vintage Fashion Retailer
Costume Retailer
Online Store
---

Pretendware Clothing: Pretendware Clothing designs and manufactures children's costumes and dress-up clothes. Their speciality is animal costumes. Address: P.O. Box 813 Point Roberts Washington 98281-0813 USA Phone: 604-948-7033 or 604-377-4283 Fax: 604-943-8224 Email: sales@pretendware.com Contact: Ansa Bulfone
Gender: Children's Store Type:
Online Retailer Retail Category: Specialty
---

Redstar Fancy Dress (United Kingdom): Redstar Fancy Dress was founded in 2008 and since then they have been supplying children, men and women with fun fancy dress outfits and accessories. They have a large selection dedicated to hen and stag parties and other themed events. Address: Unit 3B, Redstar Fancy Dress, Stretfield Mill, Stretfield Road, Bradwell, S33 9JT, UK Phone: 07948943619 E-mail: redstarfancydressuk@gmail.com Contact: Sam Butterworth
---

Renaissance Costumes Clothing: Offers women's and men's renaissance costumes, knight costumes, renaissance wedding gowns and all the accessories to make your costume complete. Address 1014 South Front St. Mankato, MN 56001 Phone 507-386-0207 Fax 507-386-0517 E-mail tom@renaissancecostumesclothing.com Contact: Tom Fallenstein
---

Spirit of The Old West frontier clothing company: they make period correct clothing of the 1860s and the 1880s, they use only the type or near types of fabric that was used at this period of time. the clothing is custom made to the buyer, this is the clothing of the American frontie. Address: 5 chenango street Greene, New York 13778 USA Phone: 607-656-4460 or 607-656-5096 Email: marshal454@aol.com Contact: Mickey Dran, president
Gender:

M

en

'

s and

L

adies
Store

Type: Online Retailer
Retail

Category: Specialty

(Western Clothing)
---

Star Costumes: Star Costumes carries a comprehensive selection of adult and kids Halloween costumes, as well as Halloween accessories and props, pet costumes, mascot costumes and more. Address: 2708 W. Sylvania Avenue Toledo, OH 43613 Phone: 1-888-573-4594 Fax: 1-419-473-9650 Email: sara@starcostumes.com Contact name: Sara Bimmel
---

Theatrical Costumes: Rental costumes for theatrical use--individual actors or productions. Costuming available for over one hundred different productions. Address: 1070 N. Batavia, Ste. E Orange, CA 92867 714 639 1010 sue@theatricalcostumes.org Contact: Peter Redman
---

Tickled Pink Fancy Dress: Tickled Pink Fancy Dress are leading suppliers of quality fancy dress for events and festivals. They sell a large range of kids and adults fancy dress including Halloween costumes, festival fancy dress, Christmas costumes, animal onesies and pink fancy dress of course. Address: 9 Lydden Rd, London, SW18 4LT, United Kingdom Phone: +44 (0)203 643 2025 Email: info@tpfancydress.co.uk Contact name: Alex
---

TV Store Online: TV Store Online is an online retailer of popular TV, comic book and movie costumes, shirts and other merchandise. Themes include comedy, superhero, classic, nostalgia and sci-fi. Address: 3160 Ridgeway Ct., Commerce Twp, MI 48390 Phone: 866-823-8537 E-mail: info@tvstoreonline.com
---

Wizard of Oz Costumes: Offers every wizard of oz costume in kids to adult sizes including: Dorothy, Scarecrow, Tin Man, Cowardly Lion, Glinda the Good Witch, Wicked Witch, Munchkins and others. Address - 1014 South Front St., Mankato, MN 56001 Phone - 507-386-0207 Fax - 507-386-0517 E-mail - staff@wizardofozcostumes.com Contact: Tom Fallenstein
---

Your La Mode: they are proud to have the largest and most desirable collection of sexy costume, swimwear, and clubwear with the lowest prices and best customer service of any online store. Their main focus is making shopping easy for their customers. A team of young minds work together to make sure top of line fashion is available to you at their online store! They do all the searching so you will be up to date on the latest fashion trends.
Women's Sexy Halloween Costumes
Women's Swimwear
---
If you could not find enough costume resources on the Apparel Search directory page, you are welcome to search the Amazon.com database for additional costume selections. Their site will allow you to search for costumes by costume brand name, category (type of costume) as well as prices.
Children's Costumes
Kids & Baby Costumes
Women's Costumes
Men's Costumes
If you need ideas for what to wear for Halloween or another event that may require a costume for children or adults, you may wish to investigate books about Halloween Costumes
By the way, if you really like to read, you may also be interested in learning how to carve pumpkins
This way you can impress your neighbors during the Halloween season.