A crew neck (or crew-neck) is a type of sweater or shirt that has a round neckline and no collar, often worn with other layers. Crew neck sweaters can be worn as a base layer but they are more often worn over a shirt, blouse, or t-shirt.
Sweaters were traditionally made from wool, but can also be made of cotton, synthetic fibers, or any combination of various textile fibers.
Their are several different types of sweaters. In regard to the neckline the three most popular styles are V-neck, turtleneck and the crew neck.
The cotton fiber is most often spun into yarn or thread and used to make a soft, breathable textile.
Shop the latest collection of women's cotton crew neck sweaters from the most popular stores. You will often find this type of garment at department stores, specialty boutiques, and obviously the online retailers.
You can find crew neck sweaters in heavy weights for winter as well as light weights for year round wear.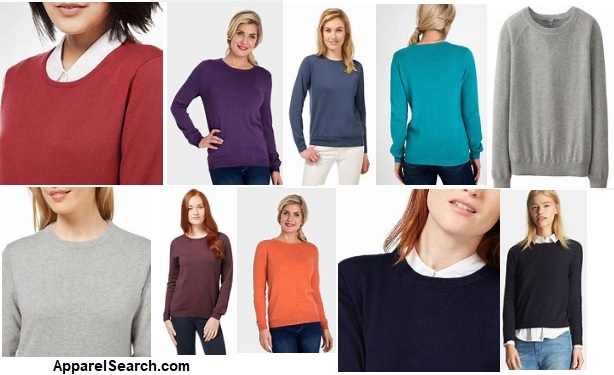 You may also want to learn about women's cotton crew neck t-shirts.
We hope that you have found enough women's cotton fashion to satisfy your needs.. If you are done with this section, you can return to the women's fashion guide for more choices. Or you can continue to learn about women's cotton fashion.
Have you seen our Fashion Designer Directory section.

Thank you for using the Apparel Search website.