Welcome to our favorite guide to women's white hosiery.
What is hosiery? Stockings, socks, and tights collectively. Hosiery, also referred to as legwear, describes garments worn directly on the feet and legs.
White is the lightest color and is achromatic (having no hue), because it fully reflects and scatters all the visible wavelengths of light. It is the color of fresh snow, chalk, and milk, and is the opposite of black. According to surveys in Europe and the United States, white is the color most often associated with perfection, the good, honesty, cleanliness, the beginning, the new, neutrality, and exactitude.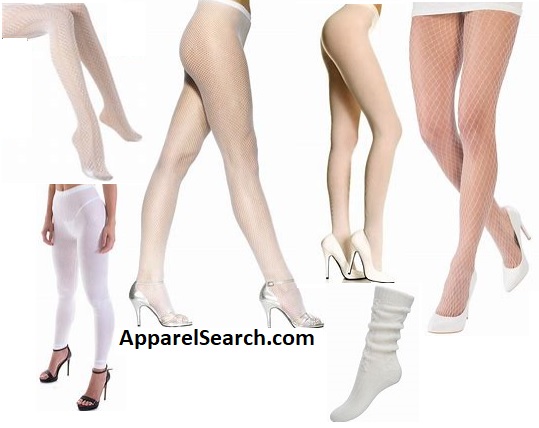 The following are some of the items of clothing that can be considered hosiery:
Bodystockings
Compression stockings, a.k.a. support stockings
Hold-ups (British English), stay-ups (British English) or thigh-high stockings (American English)
Knee highs
Leggings
Socks, tube socks (American English), knee-highs and over-the-knees
Stockings
Tights (British English; also common in American usage) or pantyhose (American English)
Toe socks
Legwarmers
Learn more about the different hosiery styles below.
What do you think is the most popular hosiery color? Possibly white is the most popular. Not sure about that. Is it your favorite color?
The term hosiery originated as the collective term for products of which a maker or seller is termed a hosier; and those products are also known generically as hose.
The term is also used for all types of knitted fabric, and its thickness and weight is defined by denier or opacity. Lower denier measurements of 5 to 15 describe a hose which may be sheer in appearance, whereas styles of 40 and above are dense, with little to no light able to come through on 100 denier items.
Denier or den (abbreviated D), a unit of measure for the linear mass density of fibers, is the mass in grams per 9000 meters of the fiber. The denier is based on a natural reference: a single strand of silk is approximately one denier; a 9000-meter strand of silk weighs about one gram. The term denier comes from the French denier, a coin of small value (worth ​1⁄12 sou). Applied to yarn, a denier was held to be equal in weight to 1⁄24 ounce (1.2 g). Microdenier describes filaments that weigh less than 1 g per 9000 m.
More About Different Types of Hosiery:
Bodystockings: A bodystocking is a one-piece skin-tight garment that covers the torso, legs and sometimes the arms of the wearer. It is a foundation garment or an article of lingerie usually made from a sheer fabric similar to that used for stockings or pantyhose, or from fishnet, lace or an opaque material, or a variation of these materials. A bodystocking differs from a unitard, which is worn as an outfit or article of clothing, and a leotard, which is used as a practice garment or performance costume for acrobats, gymnasts and other similar performers.

Compression stockings, a.k.a. support stockings: Compression stockings are elastic garments worn around the leg, compressing the limb. Compression stockings are a specialized hosiery designed to help prevent the occurrence of, and guard against further progression of, venous disorders such as edema, phlebitis and thrombosis. There are two types of compression stockings, gradient and anti-embolism.

Hold-ups (British English), stay-ups (British English) or thigh-high stockings (American English). Hold-ups or stay-ups (in the United States also referred to as thigh-high stockings or simply thigh highs) are stockings with an elasticized band at the top, designed to hold the stockings up when worn, without the use of a garter belt or garters (British English: suspenders). Thigh highs are held up by one or more bands sewn to the top that is backed with silicone on its inner surface. This ensures the thigh highs stay in position because of the elastic and the friction of the silicone against the skin.

Knee highs: Knee highs are hosiery that cover the feet and legs up to the knee. A fashion accessory for a casual and classic cool or warm weather apparel. Knee highs became popular during the 1960s and 1970s with the increase in popularity of the miniskirt. Knee highs at times form a part of girls' school uniforms. They come in many colors and patterns and transparency levels.

Leggings: Leggings refer to several types of leg coverings. Modern usage from the 1960s came to refer to elastic close-fitting garments worn over the legs typically by women, such as leg warmers or tights. Leggings in various forms and under various names have been worn for warmth and protection women throughout the centuries.

Socks, tube socks (American English), knee-highs and over-the-knees (more options available): A sock is an item of clothing worn on the feet and often covering the ankle or some part of the calf. Some type of shoe or boot is typically worn over socks.

Stockings (with or without a suspender belt): Stockings (also known as hose, especially in a historical context) are close-fitting, variously elastic garments covering the leg from the foot up to the knee or possibly part or all of the thigh. Stockings vary in color, design, and transparency. Today, stockings are primarily worn for fashion and aesthetics, usually in association with mid-length skirts.

Tights (British English; also common in American usage) or pantyhose (American English): In American English, the difference between pantyhose and tights is determined in the weight of the yarn used and the density or tightness of weaving to which the garment is knitted. Generally, anything up to 40 denier in the leg or overall is known as pantyhose and anything over can be classified as tights. Jump to search Opaque white synthetic tights with cotton gusset Tights are a kind of cloth garment, most often sheathing the body from the waist to the toe tips with a tight fit, hence the name. They come in absolute opaque, opaque, sheer and fishnet styles or a combination of them, such as the original concept of the American term pantyhose with sheer legs and opaque panty. When made of fine silk this hosiery was considered to be a stocking. When nylon fibers were developed and introduced in the 1940s, these stockings were referred to as nylons. When the separate legs were woven together with a panty that covered the lower torso up to the waist in a single, integrated format, the term pantyhose was coined, since it was a one piece construction of a panty with a pair of separate hose, one for each leg. This joining together eliminated any need for garters for holding up each separate leg covering.

Toe socks: Toe socks (also known as fingersocks, glove socks, 5-toe socks or digital socks) are socks that have been knitted so that each toe is individually encased the same way as fingers within a glove.

Legwarmers: Leg warmers are coverings for the lower legs, similar to socks but thicker and generally footless. Leg warmers are worn to keep the lower legs warm in colder weather. They can be tubular sleeves, long fabric wrappings, or simple pieces of fur or fabric tied around the calves. They are used in several outdoor activities and sports including cycling, soccer, hockey, hiking ice skating, and dance. Originally worn by dancers to keep their muscles from cramping after stretching, in the early 1980s leg warmers became a fad and wearing them was fashionable among teenage girls. Their popularity was partly due to the influence of the films Fame and Flashdance and the concurrent aerobics craze. They were worn with leggings, jeans, and tights or as part of aerobic wear. they were very popular in 1980's all over the world.
Apparel Search is a leading guide to fashion, style, and all things glamorous. We hope that you find this ladies white hosiery page to be helpful.
Find more women's hosiery colors to choose from in our ladies clothing color by category section.
What ever garments you are wearing today is most definitely in fashion. You are clearly a trend setter. If you want to look even more stylish, you should wear your favorite hosiery.
Check out more hosiery for women.
You may find the following sections of our site to be of interest as well. If you have some spare time, see if any of these topics are of interest.

Learn more about apparel here on Apparel Search.
If you wish to educate yourself regarding other ladies fashion styles, you may want to start with the following category pages of our Women's Clothes Directory.
Thank you for using our glorious & super trendy website.