Welcome to the worlds greatest guide to Women's Day Dress.
A dress or gown is a garment consisting of a skirt with an attached bodice (or a matching bodice giving the effect of a one-piece garment). It consists of a top piece that covers the torso and hangs down over the legs. A dress can be any one-piece garment containing a skirt of any length. Dresses can be formal or informal.
A day dress is a versatile piece of clothing for a woman's wardrobe. It is simply a dress intended to be worn during the day. This type of dress can obviously be worn from day to night as well.
A ladies day dress is a classy dress that can be worn to work, luncheon, or various other occasions that are not overtly formal.
The women's day dress is not a cocktail dress or an evening gown, which would typically be intended for fancy events in the evening.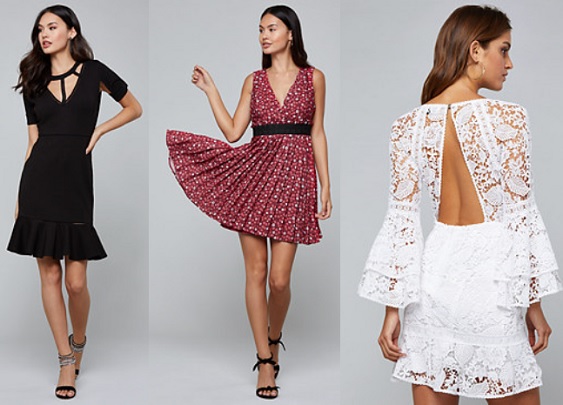 Women's dresses in the 19th century began to be classified by the time of day or purpose of the dress. High-waisted dresses were popular until around 1830. Europeans styles in dresses increased dramatically to the hoopskirt and crinoline-supported styles of the 1860s, then fullness was draped and drawn to the back. Dresses had a "day" bodice with a high neckline and long sleeves, and an "evening" bodice with a low neckline (decollete) and very short sleeves.
A bodice is an article of clothing for women and girls, covering the body from the neck to the waist. In modern usage it typically[according to whom?] refers to a specific type of upper garment common in Europe during the 16th to the 18th century, or to the upper portion of a modern dress to distinguish it from the skirt and sleeves.
By 1920, the "new woman" was a trend that saw lighter fabrics and dresses that were easier to put on. Younger women were also setting the trends that older women started to follow. The dresses of the 1920s could be pulled over the head, were short and straight. It was acceptable to wear sleeveless dresses during the day.
You may also want to visit the dress and summer dress pages.
Apparel Search is a leading guide to fashion, style, clothing, glam and all things relevant to apparel. We hope that you find this ladies day dress page to be helpful.
What ever type of dress you are wearing is in fashion.
If you want to be even more stylish, you should wear your favorite day dress today.
You may find the following sections of our site to be of interest as well.
Have you seen our Fashion Designer Directory section?

Return to the Women's Clothes Directory D page.
Thank you for using the Apparel Search website.