Welcome to the worlds greatest guide to fabulous denim handbags.
A handbag, also called purse in North American English, is a handled medium-to-large bag used to carry personal items.
The modern purse, clutch, pouch or handbag came about in England during the Industrial Revolution, in part due to the increase in travel by railway. Handbags now come in a very wide variety of styles, shapes, and sizes. As a fashion accessory, handbags can be categorized according to the silhouette of the bag, as well as the type of handle. They are also manufactured from a wide variety of materials. One of the many options includes denim.
A few popular handbag styles include the following:
clutch
hobo
messenger bag
pocketbook
etc.
All of the above as well as other styles can be produced using denim fabric.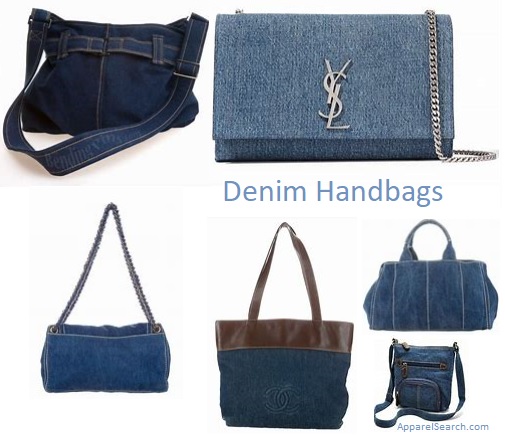 Denim is a sturdy cotton warp-faced textile in which the weft passes under two or more warp threads. The most common denim is indigo denim, in which the warp thread is dyed, while the weft thread is left white. As a result of the warp-faced twill weaving, one side of the textile is dominated by the blue warp threads and the other side is dominated by the white weft threads. The blue denim is often used for jeans, but can be utilized for handbags as well. Denim fabric can be made in a wide variety of colors.
Learn more about handbags in our product influence section.
Learn about various handbag styles.

Return to our Women's Clothes Directory D main page.
Thank you for using the Apparel Search website.