Are you actually looking for Women's Denim Skirts? Well, we hope you are because the reality is that you have found our page on the topic. In this women's clothing section of the Apparel Search directory, you will find all sorts of interesting information regarding denim skirts.
Welcome to the worlds greatest guide to ladies denim skirts.
A skirt is the lower part of a dress or gown, covering the person from the waist downwards, or a separate outer garment serving this purpose. The hemline of skirts can vary from micro to floor-length and can vary according to cultural conceptions of modesty and aesthetics as well as the wearer's personal taste. This type of clothing can be produced from a wide variety of fabric options. One textile that is appropriate would be denim. Denim is a sturdy cotton warp-faced textile in which the weft passes under two or more warp threads. This twill weaving produces a diagonal ribbing.
The most common denim is indigo denim, in which the warp thread is dyed, while the weft thread is left white. However, denim skirts can be produce in a variety of colors.
A denim skirt, sometimes referred to as a 'jean skirt' or 'jeans skirt', is a skirt made of denim, the same material as blue jeans. Denim skirts come in a variety of styles and lengths to suit different populations and occasions. They also don't have to actually be blue. The classic style of a denim skirt resembles a common pair of jeans, with a front fly, a fitted waist, belt loops, and pockets. Denim skirts not made from pants are often designed as though they were made from pants, i.e. with front and back triangular denim panels. There have been a large number of other styles constructed over time to resemble other types of skirts.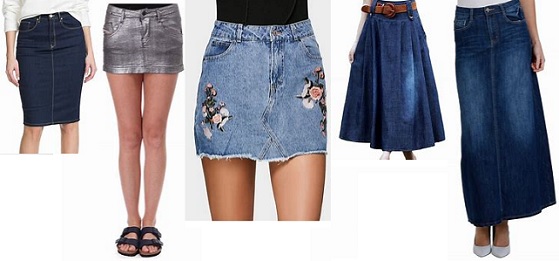 In the 1960s, hippies first came up with the idea of recycling old denim jeans into long denim skirts, by opening the inseams, and inserting pieces of triangular denim (or any other fabric) in the front and, unless a tall slit in back is preferred, also in the back of the opened-up trousers.
Women's denim skirts were first introduced in mainstream fashion lines in the 1970s, and since then have grown in popularity. Circa-1983, denim miniskirts—with a pencil skirt silhouette—became a popular teenage fashion. They were initially in darker blues, but eventually pinstripes (light blue on darker blue, red on black) and acid wash. The trend faded in the late 1980s when knit miniskirts were dominant.
One style denim skirts share with jeans is the ripped or destroyed look, which is more common with short denim skirts than with long ones. Another style shared with jeans and jeans cutoffs, but maybe even more popular in denim skirts, is the rough hem. This is achieved by not hemming the skirt (or undoing or cutting off the existing hem) and washing the skirt by machine several times. The resulting edge of the skirt will have a frayed or unraveling look, popular with teenagers and young women. The longer unraveled threads are usually cut off for an even fuzzy look, but some teenagers leave them hanging on their shorter skirts.
It is more rare to find printed denim, but it does exist. Ladies denim skirts are some times embellished with embroidery, patches, sequins, etc.
Apparel Search is a leading guide to fashion, style, clothing, glam and all things relevant to apparel. We hope that you find this Women's Denim Skirts page to be helpful.
What ever style of clothing you are wearing is in fashion.
If you want to be even more stylish, you should wear your your favorite denim skirt.

You may find the following sections of our site to be of interest.
Thank you for using the Apparel Search website.