Are you actually looking to learn more about espadrille shoes? Well, we hope you are because the reality is that you have found our page on the topic. In this women's footwear section of the Apparel Search directory, you will find all sorts of interesting information regarding espadrille shoes for women.
An espadrille is a light canvas shoe with a plaited fiber sole. Espadrilles or espardenyes are casual, flat, but sometimes high-heeled shoes. They usually have a canvas or cotton fabric upper and a flexible sole made of esparto rope. The esparto rope sole is the defining characteristic of an espadrille; the uppers vary widely in style.
Esparto, halfah grass, or esparto grass, is a fiber produced from two species of perennial grasses of north Africa and southern Europe. It is used for crafts, such as cords, basketry, and espadrilles. Stipa tenacissima and Lygeum spartum are the species used to produce esparto.
A rope is a group of yarns, plies, fibers or strands that are twisted or braided together into a larger and stronger form. Esparto rope is rope made from esparato grass fibers.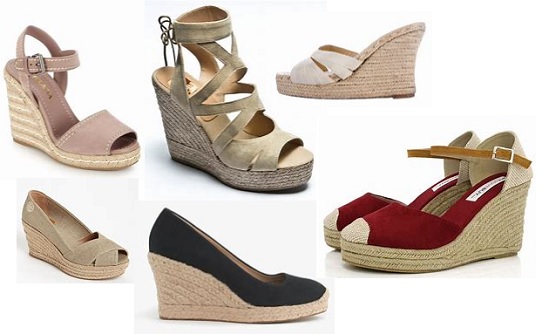 A shoe is an item of footwear intended to protect and comfort the human foot while the wearer is doing various activities.
All shoes have a sole, which is the bottom of a shoe, in contact with the ground. Soles can be made from a variety of materials, although most modern shoes have soles made from natural rubber, polyurethane, or polyvinyl chloride (PVC) compounds. Again, the espadrille has a sole made of esparato rope.
You may also have interest in checking out our espadrille sandals section.
Apparel Search is a leading guide to fashion, style, clothing, glam and all things relevant to apparel. We hope that you find this Women's Espadrille Shoes page to be helpful.
What ever style of shoe you are wearing is in style today for sure.
If you want to be even more stylish, you should wear your Women's Espadrille Shoes.

Thank you for using the Apparel Search website.