Flapper dresses define the 1920s almost more than any other image. While the distinct look itself has never wholly come back, aspects of it can still be felt in current trends. Flapper Dresses are straight and loose, with a waistline at the hips and a hem anywhere from the calf to the knee.
Flappers were a generation of young Western women in the 1920s who wore short skirts, bobbed their hair, listened to jazz, and flaunted their disdain for what was then considered acceptable behavior. Flappers were seen as brash for wearing excessive makeup, drinking, smoking cigarettes, etc.
Flapper dresses were straight and loose, leaving the arms bare (sometimes no straps at all) and dropping the waistline to the hips. Silk or rayon stockings were held up by garters. Skirts rose to just below the knee by 1927, allowing flashes of leg to be seen when a girl danced or walked through a breeze, although the way they danced made any long loose skirt flap up to show their legs.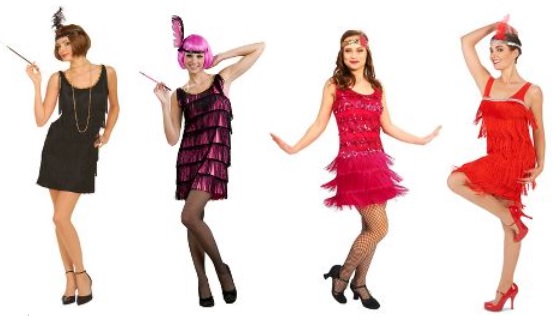 Apparel Search is a leading guide to fashion, style, clothing, glam and all things relevant to apparel. We hope that you find this Flapper Dress page to be helpful.
If you want to be even more stylish, you should wear your favorite flapper dress.

What ever style of dress you are wearing, is in fashion.
Have you seen our Fashion Designer Directory section?