Apparel Search is a leading guide to fashion, style, clothing, glam and all things relevant to apparel. We hope that you find this French Maid Outfits page to be helpful.
Though not strict to historically accurate uniforms, the French maid outfit has an easily recognizable pattern and black-and white theme that remains the template for other forms of the costume.
The women's French maid outfit is a strongly modified style of servant's dress that evolved from typical housemaid's black-and-white afternoon uniforms of 19th-century France. Some styles are conservative while others are revealing.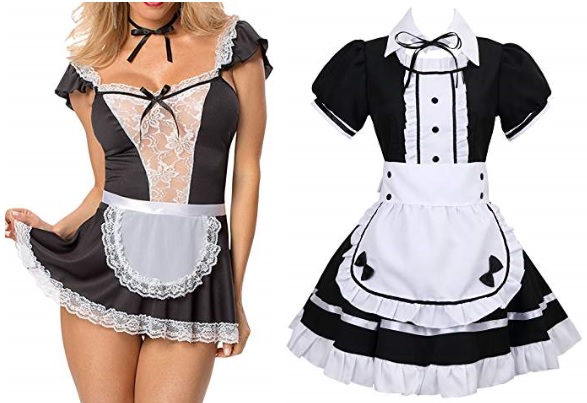 Primary features of a women's French maid outfit.
A black dress with white trim, with a full skirt at or above knee length.
White half-apron, usually with ruffle or lace.
A ruffled or lace headpiece Long stockings or tights. These can be white or black and vary from design to design.
White or black lace garter.
The outfit is typically accompanied with high heels and a feather duster as a common accessory.
The French maid costume is often used in cosplay, sexual roleplaying, and uniform fetishism. Depending on design details, some forms can be classified as lingerie.
What ever you are wearing, is in fashion.
If you want to be even more stylish, you should wear your French Maid Outfits.

Have you seen our Fashion Designer Directory section?