Apparel Search is a leading guide to fashion, style, clothing, glam and all things relevant to apparel. We hope that you find this Garter Belts page to be helpful.
Garters are articles of clothing: narrow bands of fabric fastened about the leg, used to keep up stockings, and sometimes socks. Garter belts are an undergarment consisting of an elasticated material strip usually at least 2 to 3 inches (5.1 to 7.6 cm) in width; it can be wider. Two or three elastic suspender slings are attached on each side, where the material is shaped to the contours of the body. The suspenders are typically clipped to stockings with metal clips into which a rubber disc is inserted through the stocking material effectively 'locking' the stocking in place. These are normally attached to a length of elastic allowing for adjustment. These clips, also known as suspender slings, are best attached to stockings with a simple welt that do not have lace, or 'hold-ups' with a silicone rubber lining.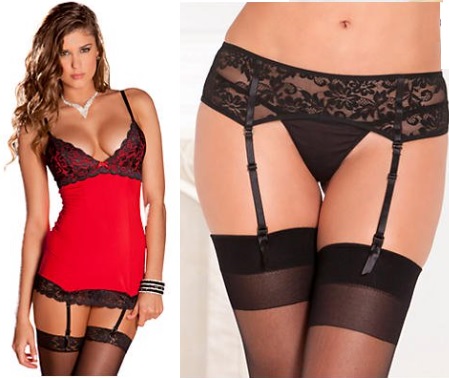 What ever you are wearing, is in fashion.
If you want to be even more stylish, you should wear your Garter Belts.
You can also check out the bridal garter belts section.

Have you seen our Fashion Designer Directory section?