Apparel Search is a leading guide to fashion, style, clothing, glam and all things relevant to apparel. We hope that you find this Women's Gladiator Sandals page to be helpful.
The sandal, which started as the most basic and utilitarian type of footwear—something solid strapped to the foot that offered protection has turned into a go to shoe for many woman around the world. Sandals come in a very wide assortment of styles.
What is a gladiator sandal? A women's gladiator sandal is an open-toed T-bar sandal with multiple straps running across the foot in a style designed to resemble that of the footwear of ancient Roman gladiators.

A sandal is a light shoe with either an openwork upper or straps attaching the sole to the foot.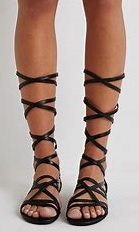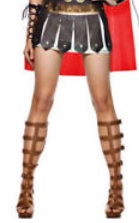 Find fancy gladiator sandals, ancient roman Greek fashioned sandals and more by visiting your favorite ladies footwear retailer.
What ever you are wearing, is in fashion but you may want to also review the following footwear options when you are done learning about ladies gladiator sandals.
If you want to be even more stylish, you should wear your Women's Gladiator Sandals.
Women's Clothes Directory: