Have you ever asked yourself What is Jersey? In addition to the state, "jersey" is a type of knit fabric used predominantly for clothing production. Very popular fabric for t-shirts, sweat shirts, etc. It was originally made of wool, but is now made of wool, cotton, or synthetic fibers. More about Jersey fabric.
fabric can be jersey knit and tops can also be a jersey.
A jersey is an item of knitted clothing worn as a pullover, as it does not open at the front. It is usually close-fitting and machine knitted in contrast to a guernsey that is more often hand knit with a thicker yarn. The word is usually used interchangeably with sweater. The shirts are now commonly worn by sports teams as part of the team uniform are also referred to as jerseys.
A jersey as used in sports is a shirt worn by a member of a team, typically depicting the athlete's name and team number as well as the logotype of the team or corporate sponsor.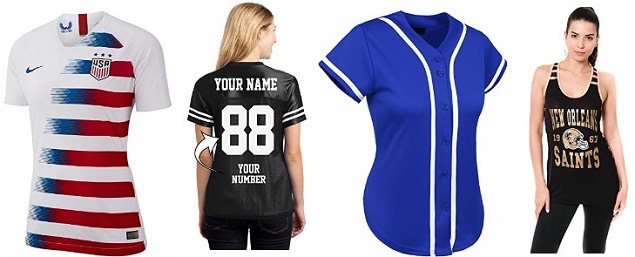 Cycling jerseys of specific color or pattern represent certain statuses in cycling, such as the yellow jersey of the leader of the general classification in the Tour de France, or the rainbow jersey for the world champion. Cycling jerseys are usually made of synthetic microfiber material to aid in wicking sweat away from the skin to allow it to evaporate.
Ice hockey jersey - The main garment of an ice hockey uniform, which was traditionally called a sweater, is increasingly known as a hockey jersey.
Basketball Jersey - basketball jerseys are usually sleeveless.
Baseball jerseys are usually button up, have become fashion accessories.
Single knit jersey and double knit jersey:
The fabric can be a very stretchy single knitting, usually light-weight, jersey with one flat side and one piled side. When made with a lightweight yarn, this is the fabric most often used to make T-shirts. Or it can be a double knitted jersey (interlock jersey), with less stretch, that creates a heavier fabric of two single jerseys knitted together to leave the two flat sides on the outsides of the fabric, with the piles in the middle. Interlock jersey is sometimes used as a knit for polo shirts, and is generally the preferred knit for those made from pima cotton.
In addition to single knit jersey and double knit jersey fabric, jersey has additional identifiable categories for example, Interlock Jersey, Jacquard Jersey, Clocque Jersey, etc.
Learn more about tops worn by women in our Women's Shirts Guide.

If you want to be even more stylish, you should wear your favorite women's jersey shirt today.
Don't you simply love New Jersey?