Apparel Search is a leading guide to fashion, style, clothing, glam and all things relevant to apparel. We hope that you find this Women's Low Rise Boy Leg Underwear page to be helpful.
What is the rise? The rise of a pant is the distance from the middle of the crotch seam (right between your legs) to the top of the waistband. Similar concept on underwear. The rise is a garment measurement which is normally indicated on the size spec created by the designer for the factory to properly product the garment.
Low rise basically creates a farther distance from the navel to the top portion of the underwear. For example, the high rise would be higher toward the navel. The "rise" of any bottom apparel is determined by the distance between the crotch and the waist.
Boy leg underwear can also be called boy shorts. Women's boyleg undergarments feature full sides and full cheek coverage. Learn about the boy short underwear style in our glossary.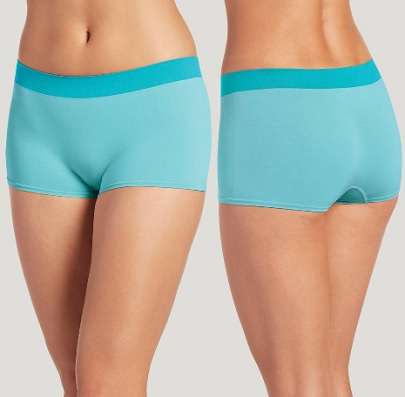 Women's low rise underwear come in a wide variety of styles. You can find low-rise briefs feature a moderate rise and full seat coverage, low rise thongs, ladies low rise briefs, low rise boy shorts, etc.
Women's boy shorts or boy leg underwear comes in a wide variety of fabrics and colors.

What is the measurement of the rise for low rise underwear? Good question. Unfortunately, their is no exact industry standard. Each designer/manufacturer utilizes their own measurements. Some low rise garments have a lower rise than others.
What ever type of underwear you are wearing, is in fashion.
If you want to be even more stylish, you should wear your favorite women's low rise boy leg underwear today.
Learn about other types of underwear.