Apparel Search is a leading guide to fashion, style, clothing, glam and all things relevant to apparel. We hope that you find this Maternity T-shirts page to be helpful.
A women's t-shirt is a type of shirt named after the "T" shape of its body and sleeves. It generally has short sleeves but can be produced as a long sleeve as well. The neckline is common as a round neck (crew neck) and v-neck. The T-shirt evolved from undergarments used in the 19th century and, in the mid-20th century, transitioned from undergarment to general-use casual clothing.
Maternity t-shirts are garments worn by women during maternity. Maternity is the the period during pregnancy and shortly after childbirth. Maternity clothing is worn by women in some cultures as an adaptation to changes in body size during pregnancy.
Some short-sleeve t-shirts have funny sayings that'll make you laugh. Obviously be cautious to not laugh to hard. You don't want the baby bouncing around uncontrollably...
You will find that maternity tops such as t-shirts come in a wide variety of fabrics, including cotton, polyester, spandex, rayon, and various combinations of these materials and more.
Cotton Cotton is a soft, fluffy staple fiber. The fiber is most often spun into yarn or thread and used to make a soft, breathable textile. The fabric is often used to make fabulous ladies tees. Learn more about the benefits of cotton.
Maternity t-shirts are available with various sleeve options. For example short sleeve, three-quarter, and long sleeve. You can find fabulous solid colors, prints, stripes, and all sorts of fashionable patterns. Be sure to select garments that are flattering as well as comfortable.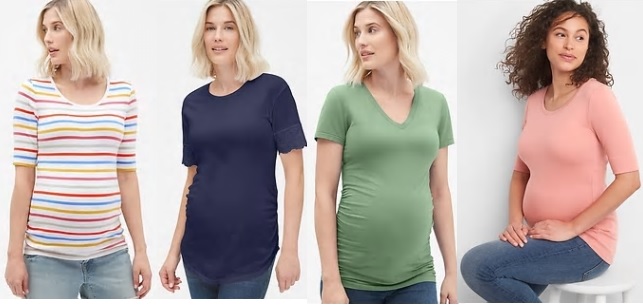 Comfort is the key.

Have you seen our Fashion Designer Directory section?
If you want to be even more stylish, you should wear your favorite maternity t-shirts.