Most women can wear their pre-pregnancy clothes during the first trimester. The tighter, form-fitting clothes may be uncomfortable, but regular jeans and shirts should fit comfortably. As soon as your clothes start to get tight, you will want to go maternity clothes shopping.
A T-shirt (or t shirt, or tee) is a style of unisex fabric shirt named after the T shape of its body and sleeves. It normally has short sleeves and a round neckline, known as a crew neck, which lacks a collar (that is NOT the only neckline option; but crew neck is poplular).
A true maternity t-shirt has a 'maternity cut' which allows you to buy your pre-pregnancy size with room to grow in the belly and in your bust line, hips, and shoulders as well.
The v-neck side ruched tee is a customer favorite at many maternity clothing retailers. The durability and stretch will comfortably accommodate your growing bump. Typically available in a range of color options, this tee can be worn with any outfit.
You can find many different t-shirt styles available. A wide range of necklines such as crewneck, scoop neck, v-neck, etc. Also various sleeve lengths.
The cut is essential when looking for a maternity t-shirt. Make sure there is more material in the front of the shirt than in the back. The t-shirt shouldn't be 'cylinder' shaped (cylindered fabric that doesn't change in width from the shoulders to the hemline).
The t-shirt also shouldn't be tightly fitted without enough room for your tummy to grow. Don't buy shirts that the primary feature is stretch fabric. It is OK to have stretch fabric, but the garment should be manufactured properly so that it does NOT only rely on the stretch of the fabric.
Sizing is important. You should be able to wear your pre-pregnancy size when you buy maternity clothes. Unfortunately, there is no manufacturer standard for sizing, and as you are aware from your non-pregnancy wardrobe what one brand calls medium is another brand's x-large.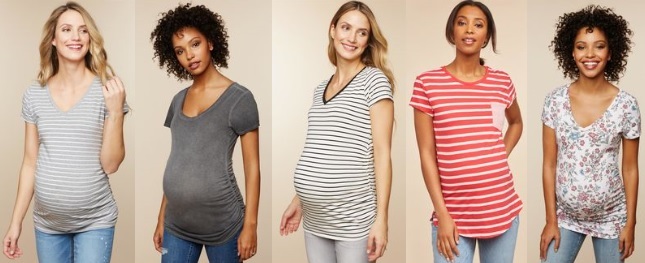 T-shirts for pregnant women are available in a huge assortment of colors and variations. Shoppers can find solid colors, stripes, checks, print patterns, etc.
Typically made of cotton textile in a jersey knit, it has a distinctively pliable texture compared to shirts made of woven cloth (woven cloth has less stretch than knit fabric). Most modern t-shirt versions have a body made from a continuously woven tube, produced on a circular loom, such that the torso has no side seams. T-shirts were originally worn as undershirts, but are now worn frequently as the only piece of clothing on the top half of the body.
Jersey knit is a popular t-shirt fabric. Cotton is an important fiber which is often used 100% or blended with other fibers to add more stretch. Learn about some of the benefits of cotton fiber from the benefits of cotton blog post on the Fashion Blog.
Here are a few maternity t-shirt tips:
Buy 'real' maternity cut t-shirts. Don't just buy a regular tee in a larger than normal size.
Buy maternity t-shirts made from natural fibers such as cotton.
Try to stay away from "one size fits all" and buy your pre-pregnancy size (but in maternity shirts). The majority of one-size-fits-most shirts typically are not the best option. Try on the shirt because each manufacturer follows a different sizing standard.
In women's fashion, an empire waist is a waistline which falls far above the natural waistline. Generally, the dress or shirt is cut so that the waistline is directly below the bust, allowing the rest of the garment to float over the bottom half of the body.
You can find tops with an inside compression panel designed to smooth, shape and offer comfortable support to a new mom's midriff.
Apparel Search is a leading guide to fashion, style, clothing, glam and all things relevant to apparel. We hope that you find this Women's Cotton Maternity T-shirts page to be helpful.
What ever you are wearing, is in fashion.
Women's Cotton Maternity Pants
Women's Cotton Maternity Shirts
If you want to be even more stylish, you should wear your Women's Cotton Maternity T-shirts.

Thank you for using the Apparel Search website.