Pregnancy, also known as gestation, is the time during which one or more offspring develops inside a woman. During this period of time the body size changes. During the second trimester, most women begin to wear maternity clothes. Maternity clothing is worn by women in some cultures as an adaptation to changes in body size during pregnancy.
The first commercial ready-to-wear clothing for pregnant women was sold in the US by Lane Bryant, which opened in 1904. Lane Bryant offered shirtwaists with an adjustable drawstring waist, and dresses with an adjustable wrap-around front.
A few popular clothing brands have made everyday wear for pregnant women both fashionable, comfortable and accessible. As the body is changing shape and therefore levels of comfort, most maternity clothing is made with stretch and growth. Cotton can be used but often mixed with fibers with additional stretch such as Lycra.
A shirt is a cloth garment for the upper body (from the neck to the waist). They are also referenced as tops. They come in a wide variety of styles. Their are many different types of shirts. Some developed by popular brands and others from emerging designers with a new flare of creativity. You can find long sleeve maternity shirts as well as short sleeve. They also come in a wide variety of necklines, lengths, colors, etc.
Maternity tops often billow out to leave room for the belly and are made of varying cottons and elastic materials. During pregnancy, the body is creating double the amount of blood and women often complain of being hot. Lightweight, stretchy comfortable materials that can be layered appear to be popular choices among pregnant women.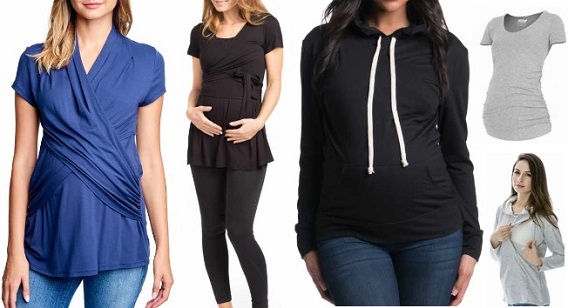 Many different shirt styles are available, including tees, tank tops, blouses, sweaters and sweatshirts. There's no need to feel frumpy in over-sized tees or sweatshirts. You can find maternity tops that are button up, sleeveless, have three-quarter sleeves, various lengths and that have various necklines. Many maternity tops have empire waistlines and fabric that gives so that you never feel restricted.
In women's fashion, an empire waist is a waistline which falls far above the natural waistline. Generally, the dress or shirt is cut so that the waistline is directly below the bust, allowing the rest of the garment to float over the bottom half of the body.
You can find tops with an inside compression panel designed to smooth, shape and offer comfortable support to a new mom's midriff.
Apparel Search is a leading guide to fashion, style, clothing, glam and all things relevant to apparel. We hope that you find this Women's Cotton Maternity Shirts page to be helpful.
What ever you are wearing, is in fashion.
Women's Cotton Maternity Pants
Women's Cotton Maternity T-shirts
If you want to be even more stylish, you should wear your Women's Cotton Maternity Shirts.
You may find the following sections of our site to be of interest if you would like to further research fashion relevant topics.
Enjoy your pregnancy and motherhood.
Learn about the many different types of shirts.

Return to Women's Clothes Directory C.
Thank you for using the Apparel Search website.