Apparel Search is a leading guide to fashion, style, clothing, glam and all things relevant to apparel. We hope that you find this Mermaid Dress page to be helpful.
What is a mermaid? Some people say a mermaid is a fictitious or mythical half-human sea creature with the head and trunk of a woman and the tail of a fish, conventionally depicted as beautiful and with long flowing golden hair.
What is a mermaid dress? A mermaid dress is a long gown that fits snug to the body until the bottom of the legs, where it flares out like a fish tail.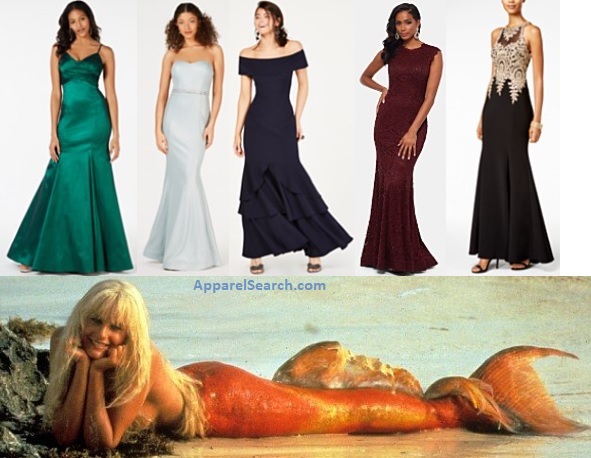 If you like mermaids, we suggest you watch "Splash" with Daryl Hannah.
Splash is a 1984 American fantasy romantic comedy film directed by Ron Howard, written by Lowell Ganz and Babaloo Mandel, and starring Tom Hanks, Daryl Hannah, John Candy and Eugene Levy. The film involves a young man who falls in love with a mysterious woman who is secretly a mermaid.
What happens when you say, "I believe in mermaids"?
What ever style of dress you are wearing, it is most likely in fashion because you are wearing it.
If you want to be even more stylish, you should wear your Mermaid Dress.