Apparel Search is a leading guide to fashion, style, clothing, glam and all things relevant to apparel. We hope that you find this Women's Motorcycle Jackets page to be helpful.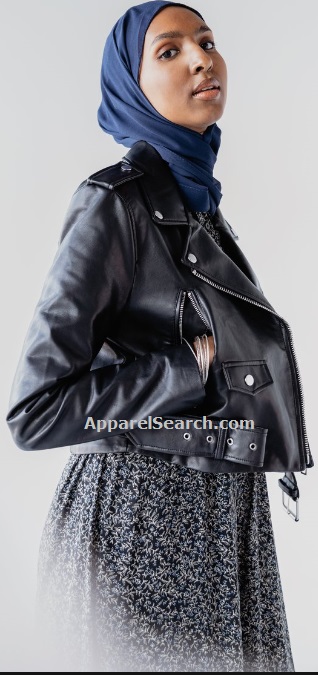 Women's motorcycle jackets can be worn for riding, or simply for fashion.
A jacket is a mid-length garment for the upper body. It will typically have sleeves, and fastens in the front or slightly on the side. The fastening can be done by zipper, buttons, toggles, etc. Women's jackets have a wide variety of style options. The silhouette, color, fabric, length, and components have many variants. Women's motorcylce jackets are typically made with a sturdy material such as leather.
A motorcycle is a two- or three-wheeled motor vehicle. Motorcycle design varies greatly to suit a range of different purposes: long distance travel, commuting, cruising, sport including racing, and off-road riding. Some jackets are fashionable, while others serve as protective clothing.
Many modern leathers have armor on the inside at major impact regions such as shoulders & elbows.
Women Wearing Motorcycle Jackets to actually Ride:
Taking the time to research proper ladies' motorcycle jackets is important and allows for a selection that best suits individual needs, styles, and performance preferences. female riders or passengers looking for the right combination of style, fit and comfort will find a wide variety if they visit their local motorcycle shop or shop online from the leading biker fashion brands.
Women's motorcycle jackets are typically tight fitting and manufactured with sturdy materials such a leather, kevlar, etc.

Women Wearing Motorcycle Jackets for Fashion Only:
If you are wearing a motorcycle jacket simply for style, the protective aspects such as elbow pads, are obviously not as important. You can find a wide selection of stylish Moto jackets at your favorite boutiques or department stores.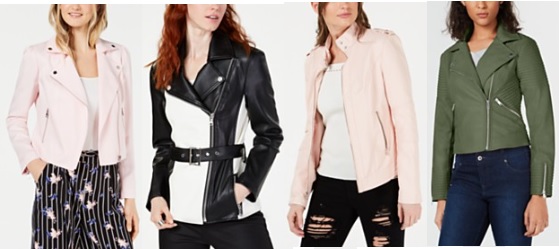 Motorcycle jacket is occasionally abbreviated as Moto jacket.
Example of a modern leather moto jacket style.
Learn more about women's biker fashion.
What ever you are wearing, is in fashion.
If you want to be even more stylish, you should wear your Women's Motorcycle Jackets.

Leather Jackets