If you are looking for motorcycle clothing factories you have come to the proper place. Below you will find our motorcycle apparel manufacturers directory. This is an international apparel guide with listings from various countries.
Learn about Women's Biker Fashion.
Women's Biker Boots & Moto Boots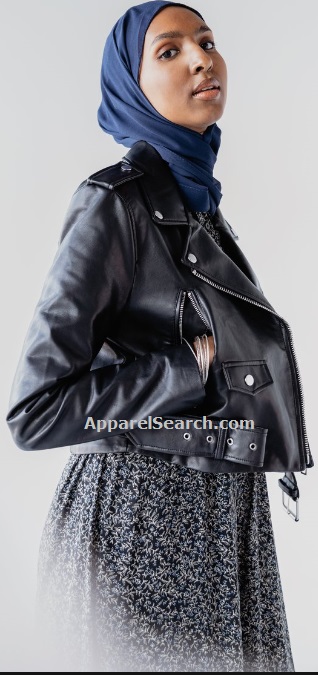 Anchor International (Pakistan): They are manufacturers and exporters of a variety of Leather Garments and Leather Gloves. They are also producing garments in cordura. Their product range in garments include Motor Bike Jackets, Motor Bike Suits with all protection, Attach-able Bike Jackets and fashion jackets (including Hip-length and long coats in Leather) using leather and cordura. Their Gloves range include Motor Bike gloves, Summer Gloves, Ski Gloves, Cross Country Gloves, Ridding & Dress Gloves and Cycle / Weightlifting Gloves in Leather, Cordura, Amara, Lycra and Spandex etc as per requirement of the buyer. They are not a large production unit, but they assure their customer's satisfaction and they are growing with their buyers. Address: Hamza ghous Sialkot 51310 Pakistan Phone: 0092-300-9613423 or 0092-432-593614 Fax: 0092-432-541986 Email: anhor@gjr.paknet.com.pk Contact: Adeel Aziz, Executive Production
Manufacturer Item # 1: Leather jackets
Manufacturer Item # 2: Leahter gloves
Manufacturer Item # 3: Crudora garments
Manufacturer Item # 4: leahter trousers
Manufacturer Item # 5: Leather biker suits
Manufacturer Item # 6: Leather coats
Manufacturer Item # 7: Motor bike jackets
---

Arpex (Pvt.) Ltd.,: Established in 1995, ARPEX PRIVATE LIMITED has been manufacturing motorcycle garments like basic brando jacket, jean trousers, chaps, vests and dungarees. ARPEX was ISO-9002 certified in the year 2000 by SWISSO - Switzerland. Their marketing office, which is based in U.K. keeps them up to date with the latest market prices, trends and public demand. With the passage of time; trends changed, the flow and use of waterproof garments became popular. So, in 1998, company started manufacturing 100% waterproof garments, motorcycling suits, gloves and accessories like balaclavas, neck tubes, chest gaiters and inner gloves. The waterproofs are titled AR-TEX, manufactured with imported materials from Korea and Taiwan and leathers are acquired from local tanneries under the supervision of their experienced and skilled staff. ARPEX is always conscious about the safety of bikers and regular users, to provide maximum safety on the road and on the track. Address: Haji Nawab Din Street, Ugoki Road, Shahab Pura Sialkot 51410 Pakistan Phone: 92-432-557178 or 92-432-256109 Fax: 92-432-553730 & 561526 Email:info@arpex.com or arpex@skt.comsats.net.pk Contact: Shahzad Saleem (Managing Director)
Manufacturer Item # 1: Leather Casual Wears
Manufacturer Item # 2: Leather M/c Clothing
Manufacturer Item # 3: Waterproof Textile M/c Clothing
Manufacturer Item # 4: M/c Gloves
Manufacturer Item # 5: Rainwears
Manufacturer Item # 6: M/c accessories & bags
Manufacturer Item # 7: CE approved impact protectors (motorcycle clothing)
---

Belstaff: continue to use only the finest quality fabrics and accessories which have made it famous throughout the world. This is the reason why Belstaff jackets have kept their value through the years; jackets made in the 50s and 60s are eagerly being sought by enthusiasts and are kept as trophies by real motorcyclists. When it comes to the demands motorcyclists place on their clothing, Belstaff has always used the latest technological breakthroughs to satisfy the need for high-performance garments, underpinning the need to advance with the experience that only 78 years of manufacture can bring. Specialised craftsmanship, an eye for detail, and use of the very latest fabrics, come together in clothing that exists purely to serve its motorcyclist be it to protect from the worst of the elements or unwarranted impact.
---

B-Pak Enterprises is one of the manufacturers of Motor Bike Leathers cadura imported quality Garments since last ten years for deferent Export Firms of Sialkot. And now they decided that they should export their products through their own firm. e-mail: info@b-pak.com

---

Glance Leather Industries: Glance Leather is leading Manufacturer of Motorbike leather clothing such as Women Leather jackets, Leather Fashion Jackets, Leather Dresses, leather Pants & Chaps, Motorbike Leather Jackets, Motorbike Suits, Leather Handbags & Leather Accessories. Glance Leather has earned distinctive standing while administering leather Clothing. Incessant upcoming innovative styles, attractive fashion and amazing designs have created position for Glance Leather in the leather market. All over the Globe they sell Fur Wear including Fur jackets, Faux fur Vest, Western Hats, Fur Bags, Fur Hats & Fur Accessories; Glance Leather is the right place to get into any stylish look at reasonable prices. Address: P.O. BOX NO. 2515, Nadir Town Fateh Garh Road, Sialkot - Pakistan. Phone: +92-52-3255987- E-mail: glanceleather@gmail.com Contact: M.Afzal Malik
Motorcycle Clothing Manufacturer
Chaps Manufacturer (Leather Chaps)
Leather Clothing Manufacturer
---

Lilo Sports (Pakistan) is a name and brand of satisfaction in the field of real Leather and manmade leather, established in 1973, specializing in Sports Gloves, Fashion Gloves and Industrial Gloves tanned leather focusing on one object to win the smile of customer and satisfaction with their products fully covered with guaranteed against any legitimate manufacturing defects. To keep their standard, they have inducted highly qualified and experienced managements, modern technology in all wings working under one roof to maintain the standard. Selected raw material is acquired and tanned in their own factory premises. They are diversified manufacturer supplying gloves, Leather garments and tanned leather in high standard and cost efficient in order to compete in the international market besides meeting international standard and quality parameters. They manufacturer motorbike gloves, motorcross gloves, cross country gloves, dressing gloves, driving gloves, horse riding gloves, ski gloves, golf gloves, cycling gloves, weightlifting gloves, and work gloves.
---

Motogene Inc.: Motogene Inc. specializes in making motorcycle clothing and accessories. Motogene is from Taiwan. They supply all kinds of high quality sports clothing with competitive price. State-of-the-art technologies and processes are utilized in the manufacture of the products. Motogene is dedicated to providing the customers with products of uncompromising quality, value. They promise reliable delivery and exceptional service. Address: Room 305-311, Huijin Business Mansion, 259 Wuzhong Road, Minhang District, Shanghai, China 201103. Phone:+86-21-62193908 Fax: +86-21-62193928 E-mail: sales@motogene.com Contact: Brian Wang
---

Natural Sports they are supplying leather fashion Gloves & leather / fabric Garment for men's and ladies. They produce leather gloves, motorcycle clothing, leather jackets, leather vests and chaps.
Motorcycle clothing factoryMotorcycle clothing factory
Vest FactoryVest Factory
Chaps Factory