Women's Motorcycle boots are associated with motorcycle riders and range from above ankle to below knee boots.
A motorcycle, often called a bike, motorbike, or cycle, is a two- or three-wheeled motor vehicle. Motorcycle design varies greatly to suit a range of different purposes: long distance travel, commuting, cruising, sport including racing, and off-road riding. The world is graced with a wide variety of motorcycles as well as a wide assortment of appropriate clothing & footwear to be worn while riding.
Ladies motorbike boots have an outside of a typical boot but generally a low heel to control the motorcycle. To improve motorcycle safety, motorcycle boots are generally made from a thick, heavy leather and may include energy absorbing and load spreading padding, metal, plastic and/or composite materials to protect the motorcycle rider's feet, ankles and legs in an accident occurs.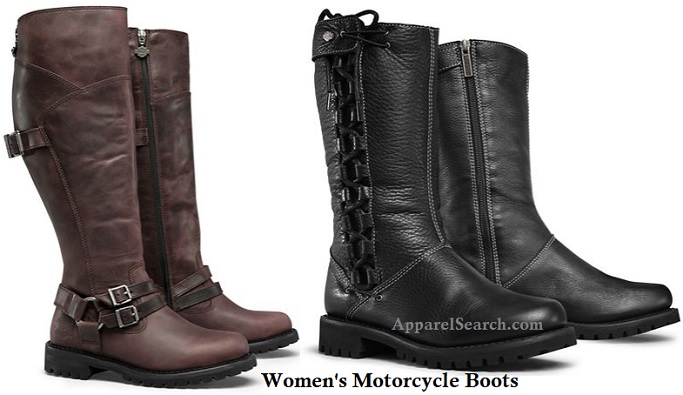 Motorcycling is riding a motorcycle and related social activity such as joining a motorcycle club, cruising, attending motorcycle rallies, and more. Dressing appropriate for the ride as well as social activities may be taken into consideration when selecting a pair of boots.
You don't want your boots to slip when riding. Depending upon how form-fitting the boot is, to allow a rider to easily get the boot on or off, the shaft may be designed to open lengthwise. If so, Velcro or other hook-and-loop fasteners are typically used on the inner sides of the opening to allow the rider to close the boot over the foot, ankle and leg. This allows for some flexibility for the rider to control the boot's tightness.
Ladies boots for riding motorcycles varies depending on the type of riding. Racing boots, touring boots, motocross boots, etc., have different styles.
Women's touring boots - Similar to racing boots, touring boots are designed specifically for riding a motorcycle on hard pavement, but with less armored protection than racing boots since they are intended for riders that typically ride on city streets and highways, not race tracks. They are usually between 10 and 14 inches in height and made from a combination of leather, metal, hard rubber, plastic and/or man-made fabrics to create a form-fitting, but comfortable boot.
Women's racing boots - Similar to touring boots, racing boots are designed for riding a motorcycle on hard pavement (either the street or a race track) and are usually between 10 and 14 inches in height and made from a combination of leather, metal, plastic and/or man-made composite materials to create a form-fitting, but comfortable boot. The amount of armored protection provided by racing boots is usually greater than touring boots due to the increased potential for injury at the high speeds needed for racing.
Women's Motocross boots - Modern motocross boots are usually nearly knee-high (about 16 inches in height). Motocross boots are designed specifically for off-road, motocross (MX) or all-terrain vehicle riding. To help prevent a rider's feet and legs from being injured, motocross boots are typically much stiffer than regular motorcycle boots or racing boots, but are more flexible than ski boots by comparison.
Women's Engineer boots - Engineer boots are a long-established style of boots used by people in a number of occupations in addition to motorcyclists.
Women's Harness boots are very similar to engineer boots. The boots are most often made of heavy weight leather and range in height from short (10 inches) to extra high (38 inches). The most typical height is between 10 and 18 inches. The most common color is black, but brown harness boots are also made. Harness boots are designed to protect the motorcycle rider from the heat of the exhaust pipes and the engine block and from injury to the foot and leg in the case of an accident while riding and may include a built-in steel toe cap and metal shank in the heel. Whereas engineer boots have a rounded toe, harness boots typically have a square toe.
Moto boots don't have to be worn for riding. They are also worn simply for fashion by ladies that have never been on a motorbike.
Learn about moto boots in our fashion product influence section.
Visit your women's biker boots page.

Have you seen our Fashion Designer Directory section?