In this women's clothing section of the Apparel Search directory, you will find all sorts of interesting information regarding engineer boots for women.
Engineer boots, also known as engineer's boots or engineering boots, are an American type of traditional leather work-boots. They are designed to protect the motorcycle rider from injury to the foot and leg in the case of a crash and to prevent the burning of the rider's calves while riding. They may include a built-in steel toe cap and metal shank in the heel, and often have a leather for stiffness.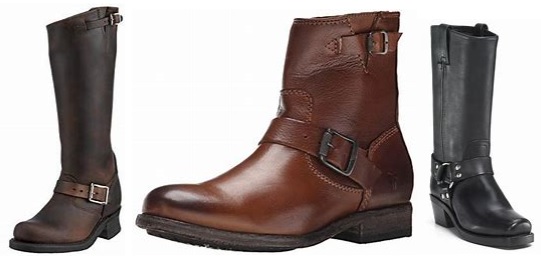 Shop for Women's Engineer Boots (amazon).
How did engineer boots get their name? Railway engineers.
Engineer boots were originally meant as protective gear for firemen working on steam railway engines (i.e. "engineers"), as their minimal stitching and pull-on design made them ideal for working in conditions with hot coals, embers, and sharp edges.
Their lace-less, rugged construction made them popular among motorcycle riders. Originally developed in the 1930s for firemen working on steam locomotives, the boots gained substantial popularity in the post–World War II era during a growing motorcycling culture.
Do you have to own a motorcycle to own engineer boots? No, they are also worn for fashion.
This type of boot became a popular symbols of teenage rebellion in the 1950s and a common component of greaser wear. They were later adopted by skinheads and punks in the 1970s. By the 2010s, engineer boots were being popularly worn for fashion purposes, especially by non-traditional customers such as women, young urban professionals, and hipsters.
More about the engineer boot construction.
Engineer boots are typically made from thick, stiff, full-grain bull hide. The leather is often oiled to add durability and flexibility, and may be brown or black in color. The double-layered shafts may be anywhere between 7 inches to 17 inches in height, and are gusseted at the top and relatively loose, though they can be tightened by a steel-buckled strap. Another steel-buckled strap is placed at the instep of each boot.
Around 1860, the Frye Company produced a popular line of harness boots. Quickly adopted by the United States Cavalry, they featured an ankle strap that attached to metal rings, a style which may have served as inspiration for the design of the engineer boot. During the 1930s, the Chippewa Shoe Manufacturing Company developed a pair of boots with stovepipe shafts based on the style of English horse-riding boots. The West Coast Shoe Company (Wesco) began manufacturing their "engineer boots" in 1939.
Here is a bit of trivia for you regarding Engineer Boots. Did you know that Billy Joel mentions them in the song Scenes from an Italian Restaurant.
Billy Joel; Scenes from an Italian Restaurant
"Do you remember those days hanging out at the village green?
Engineer boots, leather jackets and tight blue jeans
Drop a dime in the box play a song about New Orleans
Cold beer, hot lights, my sweet romantic teenage nights"
Harness boots are very similar to engineer boots. The boots are most often made of heavy weight leather and range in height from short (10 inches) to extra high (38 inches). The most typical height is between 10 and 18 inches. The most common color is black, but brown harness boots are also made. Harness boots are designed to protect the motorcycle rider from the heat of the exhaust pipes and the engine block and from injury to the foot and leg in the case of an accident while riding and may include a built-in steel toe cap and metal shank in the heel. Whereas engineer boots have a rounded toe, harness boots typically have a square toe.
Visit our women's motorcycle boots page.
Apparel Search is a leading guide to fashion, style, clothing, glam and all things relevant to apparel. We hope that you find this Women's Engineer Boots page to be helpful.
What ever type of boot you are wearing today is in style. If you plan on going for a motorcycle ride, don't forget to put on your engineer boots.
If you are interested in learning about other types of footwear, you can try researching the following categories.
Learn more about Women's Boots.
If you want to be even more stylish, you should wear your women's engineer boots.
If you work in the apparel industry and produce motorcycle footwear or clothing, you may want to visit our motorcycle clothing factory section.

You may also find out motorcycle clothing wholesaler section to be helpful.
You may find the UGG moto boot to be of interest.

When you are done riding motorcycles, you may want a pair of boots for riding horses. If that is the case, don't forget to also learn about women's equestrian boots.
By the way, don't forget your biker hat if you are planning a motorcycle ride.
Welcome to the worlds greatest guide to Women's Engineer Boots. Are you actually looking for ladies engineer boots? Well, we hope you are because the reality is that you have found our page on the subject.
Thank you for using the Apparel Search website.