Hint: Equestrian means relating to horse riding.
In this women's clothing section of the Apparel Search directory, you will find all sorts of interesting information regarding equestrian boots for women.
Saddle up with a good pair of horse riding boots. The proper footwear is important both in the saddle and around the stable. Tall boots may be needed for the proper style of riding that you do. Muck boots for chores around the stable. Proper footwear is essential for long hours of horse work and training at the barn.
If you search online you can find several fine equestrian retailers selling ladies horse riding boots in English or Western styles in leather, synthetic or rubber. You will find women's equestrian boots from top brands like Ariat, Mountain Horse, Dublin and more. English riding boots are a must-have for the equestrian wardrobe.
An equestrian riding boot is a boot made to be used for horse riding. The classic boot comes high enough up the leg to prevent the leathers of the saddle from pinching the leg of the rider, has a sturdy toe to protect the rider's foot when on the ground and has a distinct heel to prevent the foot from sliding through the stirrup. The sole is smooth or lightly textured to avoid being caught on the tread of the stirrup in the event of a fall.
The modern riding boot is relatively low-heeled, with a heel of less than one inch, though historically a higher heel was common, as it has always been critically important for riding boots to prevent the foot from slipping through the stirrup. Today, only some styles of cowboy boot retain a higher heel than other modern riding boots.
Equestrian boots include the following categories:
Field Boots
Dress Boots
Hunt Boots / Top Boots
Paddock Boots / Jodhpur Boots
and more.
For western riding and showing, western riders wear cowgirl boots, with either the high "cowboy" or "riding" heel; the intermediate, somewhat lower "walking" heel; or the low, "roper" style heel that is similar to that of English boots.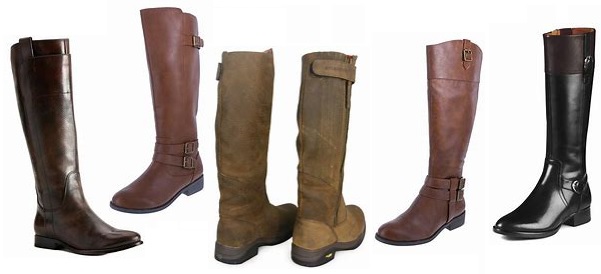 Traditionally, English riding boots are made of smooth leather, usually cowhide, or occasionally pigskin, and most show boots remain thus due to the classic look. However, synthetic leather, vinyl and other materials are becoming more common.
Apparel Search is a leading guide to fashion, style, clothing, glam and all things relevant to apparel. We hope that you find this Women's Equestrian Boots page to be helpful.
What ever style of horse riding boot you are wearing in style for sure.
Learn about additional types of women's footwear.
If you want to be even more stylish, you should wear your favorite riding boots.

When you are done riding horses, you may want a pair of boots for riding motorcycles. If that is the case, don't forget to also learn about women's engineer boots.
Thank you for using the Apparel Search website.