Apparel Search is a leading guide to fashion, style, clothing, glam and all things relevant to apparel. We hope that you find this Women's Oxford Shoes page to be helpful.
Oxfords first appeared in Scotland and Ireland, where they are occasionally called Balmorals after Balmoral Castle. However, the shoes were later named Oxfords after Oxford University. This shoe style did not appear in North America until the 1800s. In the United States, Oxfords are called "Bal-type" as opposed to "Blucher-type". In France, Oxfords are known as Richelieu.
An Oxford shoe is characterized by shoelace eyelets tabs that are attached under the vamp, a feature termed "closed lacing". This contrasts with Derbys, or Blüchers, which have shoelace eyelets attached to the top of the vamp. Originally, Oxfords were plain, formal shoes, made of leather, but they evolved into a range of styles suitable for formal, uniform, or casual wear. Oxfords are now made from a variety of materials, including calf leather, faux and genuine patent leather, suede, and canvas. They are normally black or brown, and may be plain or patterned (Brogue).
The Brogue (derived from the Gaelic bróg (Irish), bròg (Scottish) "shoe") is a style of low-heeled shoe or boot traditionally characterized by multiple-piece, sturdy leather uppers with decorative perforations (or "broguing") and serration along the pieces' visible edges.
Traditionally, the toe cap can either be lined with two narrow rows of stitching, perforated holes along the end cap stitching (quarter-brogue), perforated holes along the end cap stitching and on the toe cap (semi-brogue), or a semi-brogue with the classical wingtip design (full-brogue). Modern women's oxford shoes come in a wide variety of options. You can find wedge oxfords, wintip oxfords, platform oxfords, pump oxfords, etc.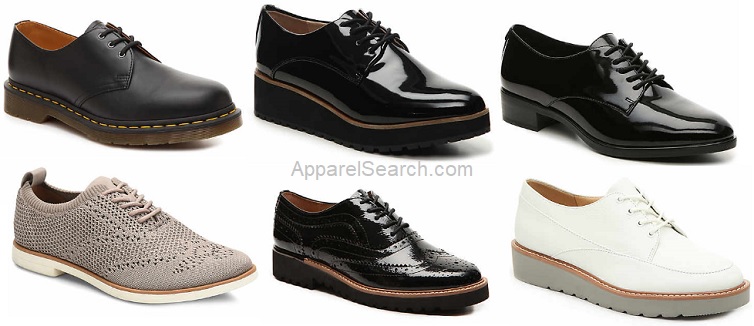 Ladies oxford footwear comes in a wide range of materials, colors and stylistic options.
What ever you are wearing, is in fashion.
If you want to be even more stylish, you should wear your favorite Women's Oxford Shoes.
You may also want to view the open toe pumps page.
Learn about other types of shoes from the footwear links below.