Welcome to the worlds greatest guide to Women's Plaid Shirts. Are you actually looking for ladies plaid tops? In this women's clothing section of the Apparel Search directory, you will find all sorts of interesting information regarding Women's Plaid Shirts.
Plaid shirts are fabulous for women.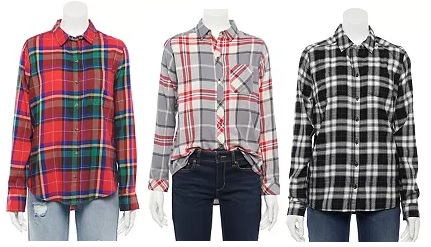 A plaid shirt is often made of flannel fabric and worn during the winter. However, plaids can also be made in other materials as well. Plaid is a pattern consisting of criss-crossed horizontal and vertical bands in multiple colors. This type of fabric originated in woven wool, but now they are made in many other fabrications. Cotton flannel plaids are very popular as women's shirts, sleepwear, robes, and loungewear in the United States and other locations around the world.
When picking out your flannel tops, keep in mind that some qualities are better than others. If you go with high-end, you can have the horizontal or vertical lines in the patterns match as they cross over to other panels of the fabric. For example, the left front of your shirt can match up to the right side if the manufacturers cut & sew with precision. The effort to line up the patterns may add to the cost of the garment.
Read the plaid definition for additional information about this particular fabric pattern.
You may want to read the flannel time of year blog post article.

Women's Clothes Directory:

Women's Clothing Directory P
If you want to be even more stylish, you should wear your favorite Women's Plaid Shirts.
You may find the following links to be of interest:
Apparel Search is a leading guide to fashion, style, clothing, glam and all things relevant to apparel. We hope that you find this Women's Plaid Shirts page to be helpful.

What ever style of shirt you are wearing, is in fashion.