Welcome to the worlds greatest guide to Women's Raincoats. Are you actually looking for Women's Raincoats? If it is raining outside or looks like it might, you better grab your favorite rain jacket.
A raincoat or slicker is a waterproof or water-resistant coat worn to protect the body from rain. The difference between a rain coat & rain jacket is the length of the garment. Essentially a jacket is a type of coat that is categorized by its length. A jacket is typically waist length. Waist length means that it goes down to "approximately" the wearers waistline. For a heavy rain, a full length option would offer better protection. Learn more about the differences between a coat & jacket.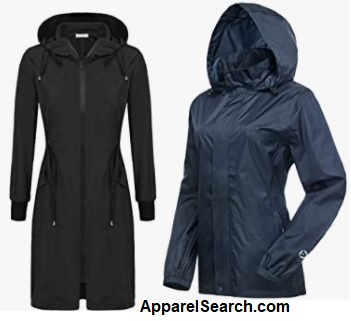 Women's rainwear comes in many varieties. When shopping for outwear, you will want to consider warmth & breathability in addition to water protection. If it is a hot day, you may want some ventilation in your waterproof clothing.
When shopping for women's raincoats you will want to consider if you want a garment with or without a hood. Although a hood can mess your hair, it also will help keep it dry. Our suggestion is to go with a hood.
Are yellow raincoats fashionable?
Yellow is absolutely in fashion.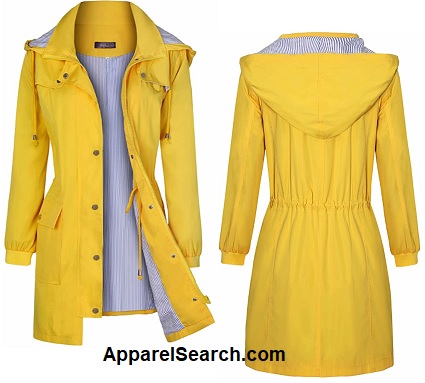 The reality is that when it is raining the visibility is poor. If you are wearing yellow it is a better chance that you will be seen by moving vehicles. Better safe than sorry, so yellow & orange is a fabulous rainwear color choice. Yellow is "always" in style when it is raining.
Learn more about women's yellow raincoats.
You should also browse the Women's rainwear page.
Women's Clothes Directory:

Women's Apparel Directory N