Welcome to our fabulously trendy guide to Women's Trench Coats. Are you actually looking for more information on this subject? Well, we hope you are because the reality is that you have found our ladies trench coat page. In this section of the Apparel Search directory, you will find all sorts of interesting information regarding this topic.
This type of garment is a loose, belted, double-breasted raincoat in a military style. A trench coat which is some times spelled as trenchcoat is a raincoat made of waterproof heavy-duty material. Typically cotton gabardine drill, or leather, or poplin. It generally has a removable insulated lining, raglan sleeves, and the classic versions come in various lengths ranging from just above the ankles to above the knee.
If you want to be a spy, you should invest in a trench coat for sure.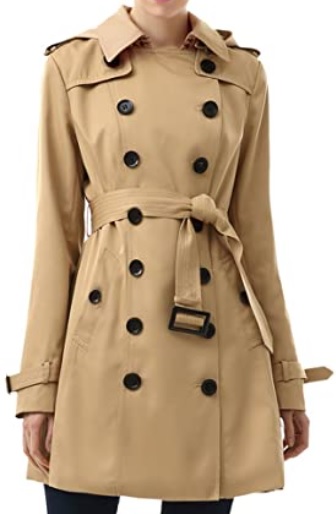 A typical trench coat is a ten-buttoned, double-breasted long coat made with tan, black, khaki, or beige fabric. However, the color is flexible and can be more fashionable colors. Trench coats often have cuff straps, raglan sleeves, shoulder straps and a belt. The trench coat was typically worn as a windbreaker or as a rain jacket, and not for protection from the cold in winter or snowy conditions.
You may also want a stylist pair of rainboots.
What ever you are wearing to keep your self warm or dry is in fashion. If you want to be even more stylish, you should wear your favorite trench coat today.

Apparel Search is a leading guide to fashion, style, clothing, glam and all things relevant to apparel. We hope that you find this Women's Trench Coats page to be helpful.