Welcome to the worlds greatest guide to Women's Rain Boots. Are you actually researching rain boots for women? Well, we hope you are because the reality is that you have found our page on the topic.
A women's rain boot is typically made specifically for wearing on rainy days or when in wet environments. The goal of a rain boot is to keep the wearers feet dry.
Learn more about rain boots in the products area of our fashion influence section.
A boot is a type of footwear and a specific type of shoe. Most boots mainly cover the foot and the ankle, while some also cover some part of the lower calf. Some boots extend up the leg, sometimes as far as the knee or even the hip. Most boots have a heel that is clearly distinguishable from the rest of the sole, even if the two are made of one piece. Traditionally made of leather or rubber, modern boots are made from a variety of materials.
Women's rain boots are typically made of material that is waterproof.
Rain boots are generally made from a few material options but are commonly made from rubber. Some are synthetic rubber while the other is completely natural rubber.
PVC is a popular rain boot material. PVC is a type of thermoplastic polymer that is flexible and durable. PVC is an amorphous plastic not a rubber, but it can be formulated to have some rubber-like characteristics.
Rain boots often have a thick protective sole.
Good rain boots have anti-slip bottoms.
A few more characteristics to look for when selecting your rain boots.
Tall height
Graded leg heights
Roll up
Soft flexible rubber
Hardwearing natural rubber
Water dispersing outsole
Pull tab for ease of pulling on or off
Fully waterproof
Reflective back straps
Removable insoles
Slip on
Grooved outsole
Extra Wide Calf
What is the best rain boot color? That is a subjective question. It should come as no surprise that yellow rain boots are popular due to the added visibility when walking outdoors on a cloudy day. However, you will find a huge assortment of color options when shopping. It is ready hard to pick a favorite color.
In addition to solid colors, you will find many printed design options.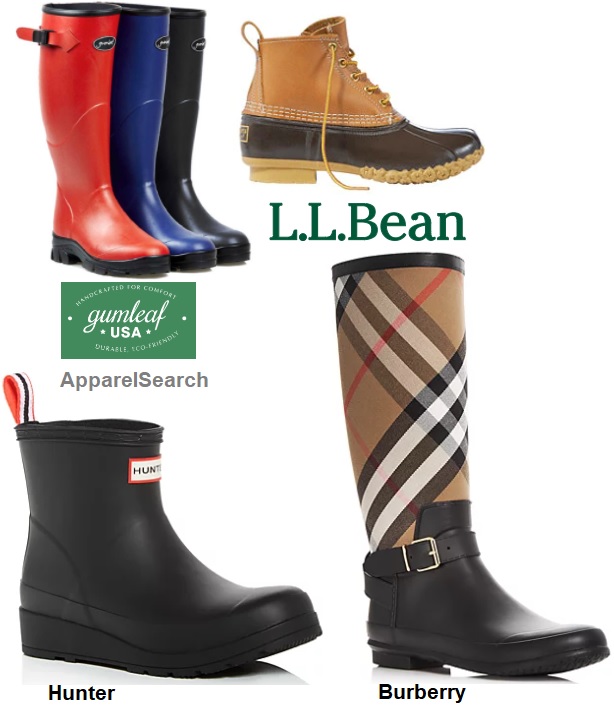 Knee-high rain boots and wedge rain boots can be very fashionable.
Learn more about women's rubber rain boots.
What are the best rain boot brands?
Gumleaf USA (https://www.gumleafusa.com) Launch boats, walk through streams, or just laugh at the rain. Gumleaf USA's handmade boots are made from one piece rubber sheets containing 85% natural rubber. Roller-defined seams, full gussets, rolled zip seams, and reinforced back-trims are baked for two hours in an autoclave to create a comfortable, attractive, and totally waterproof boot.
Look for women's rain boots that are waterproof, comfortable, and protective.
Ladies rain boots should be stylish as well as functional. The rainy season's must-have products absolutely must include a pair of fabulous rain boots. These category of waterproof boots are often made of rubber & come in various lengths, styles, prints and colors. Boots are often designed to be light weight so you can walk comfortably. Wellies, garden boots, duck boots and more are available options when visiting your favorite shoe store or fashion boutique.
The Wellington boot (Wellies) was originally a type of leather boot adapted from Hessian boots, a style of military riding boot. They were worn and popularized by Arthur Wellesley, 1st Duke of Wellington. The "Wellington" boot became a staple of practical foot wear for the British aristocracy and middle class in the early 19th century. The name was subsequently given to waterproof boots made of rubber and they are no longer associated with a particular class. They are now commonly used for a range of agricultural and outdoors pursuits.
Bean Boots are a type of water-resistant "duck boots" manufactured by L.L.Bean. They are constructed from a rubber sole and a leather upper. The boots were created in 1911 and were an instant success.
You may find the following links to be of interest.