Welcome to the worlds greatest guide to Women's Rubber Rain Boots. Are you actually researching rubber rain boots for women? Well, we hope you are because the reality is that you have found our page on the topic.
The goal of ladies rain boots are to keep the feet dry when it is raining. Yes, that is a rather simple explanation. One of the most common materials used for rain boots is rubber. This material can be either synthetic rubber or natural rubber.
The resistance of rubber to water and to the action of most fluid chemicals has led to its use in rainwear.
A synthetic rubber is any artificial elastomer. They are polymers synthesized from petroleum byproducts.
A natural rubber, also sometimes referenced as India rubber, latex, Amazonian rubber, caucho, or caoutchouc, as initially produced, consists of polymers of the organic compound isoprene, with minor impurities of other organic compounds. Thailand and Indonesia are two of the leading rubber producers. Types of polyisoprene that are used as natural rubbers are classified as elastomers.
Natural rubber is used extensively in many applications and products, either alone or in combination with other materials. In most of its useful forms, it has a large stretch ratio and high resilience, and also is water-proof.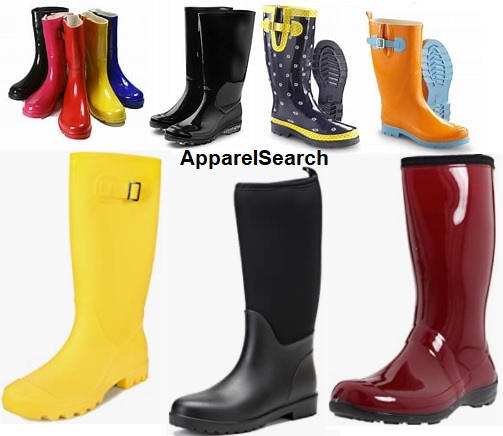 Why would anyone choose synthetic rubber over natural rubber?
Some people have a serious latex allergy, and exposure to natural latex rubber products.
Apparel Search is a leading guide to fashion, style, clothing, glam and all things relevant to apparel. We hope that you find this Women's Rubber Rain Boots page to be helpful.
What ever you are wearing in the rain is in fashion if it helps keep you dry.
If you want to be even more stylish, you should wear your favorite Women's Rubber Rain Boots.
You may find the following sections of our website to be of interest for further reading.
Clothes Women's Fashion Shop for Women's Clothing
Rainwear Factories Women's Shoe Stores Women's Footwear Guide
Women's Shoes Footwear Definitions Shoe Search Where to Shop for Shoes

You know, I bet you would look good wearing Women's Rubber Rain Boots.