Are you familiar with spandex? The name "spandex" is an anagram of the word "expands". Spandex is a fabulous "stretch" fabric (fabric expands when stretched).
Spandex is a synthetic fiber known for its exceptional elasticity. It is a polyether-polyurea copolymer that was invented in 1958 by chemist Joseph Shivers at DuPont's Benger Laboratory.
Have you heard of Lycra or elastane? Well, they are essentially the same thing as Spandex. It is the preferred name in North America; in continental Europe it is referred to by variants of "elastane", i.e. élasthanne (France), Elastan (Germany, Sweden), elastano (Spain), elastam (Italy) and elastaan (Netherlands), and is known in the UK, Ireland, Portugal, Spain, Brazil, Argentina, Australia, New Zealand and Israel primarily as Lycra. Brand names for spandex include Lycra (made by Koch subsidiary Invista, previously a part of DuPont), Elaspan (also Invista), Acepora (Taekwang), Creora (Hyosung), INVIYA (Indorama Corporation), ROICA and Dorlastan (Asahi Kasei), Linel (Fillattice), and ESPA (Toyobo).
Swimwear is clothing designed to be worn by people engaging in a water-based activity or water sports, such as swimming, diving and surfing, or sun-orientated activities, such as sun bathing. Learn more about swimwear in our fashion influence section.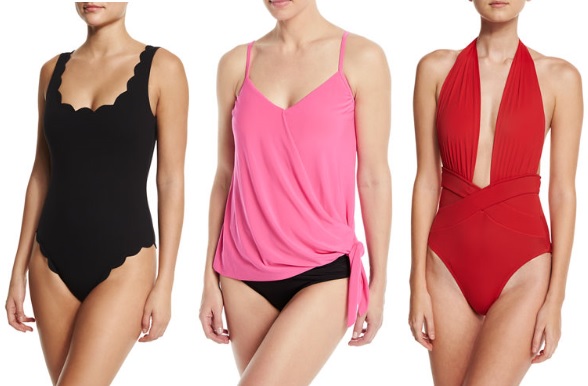 Some women's swimwear is 100% spandex but it is often also blended with other fibers.
Swimsuits are made of Polyurethane (Lycra, Spandex or Elastane), Polyester, Nylon or blended synthetic fibers such as Poly PBT or XLA. These materials absorb very little water, and therefore dry very quickly. They are flexible and conform to the body.
Spandex lends itself to a great deal of modern swimwear, though it's typically not the sole fabric. As part of a material blend, soft and light spandex ups the swimsuit's stretchiness; the more spandex in the suit, the more shape-hugging it is. This makes it a vital component in competitive swimwear.
Women's competitive swimwear is often made of Spandex. Some swimsuits are designed specifically for swimming competitions where they may be constructed of a special low resistance fabric that reduces skin drag. For some kinds of swimming and diving, special bodysuits called "diveskins" are worn. These suits are made from spandex and provide little thermal protection, but they do protect the skin from stings and abrasion. Most competitive swimmers also wear special swimsuits including partial bodysuits, racerback styles, jammers and racing briefs to assist their glide through the water thus gaining a speed advantage.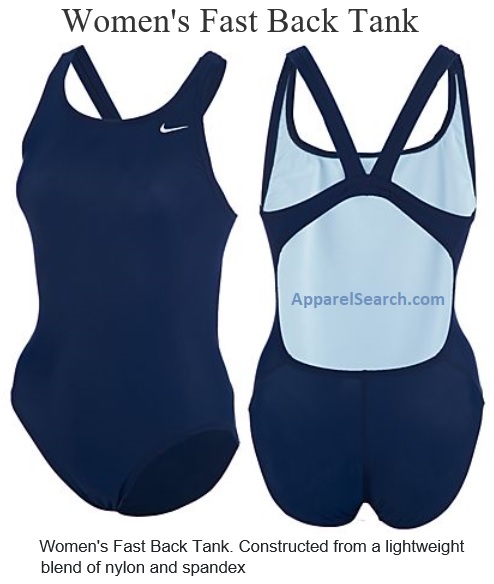 A type of athletic shirt made of spandex and nylon or polyester. Rash guards may be worn as an alternative to wetsuits during warmer weather. They may also offer UV protection. Learn about swimshirts.
Swim briefs are now often made of a nylon and spandex composite, while some longer lasting suits are made from polyester.
You may wish to read some spandex news...
Apparel Search is a leading guide to fashion, style, clothing, glam and all things relevant to apparel. We hope that you find this Women's Spandex Swimwear page to be helpful.
More about the inventions of Spandex fiber if you are interested in the history of Spandex & Lycra. Dupont textiles scientist Joseph C. Shivers was determined to find a fiber to replace rubber in garments. He made a breakthrough in the early 1950s when he used an intermediate substance to modify Dacron polyester. This modification produced a stretchy fiber that could withstand high temperatures. After nearly a decade of research the fiber was perfected in 1959. Originally called fiber K, DuPont chose the more rich trade name Lycra to distinguish its brand of spandex fiber.
What ever you are wearing, is in fashion.
If you want to be even more stylish, you should wear your favorite Women's Spandex Swimwear.

Have you seen our Fashion Designer Directory section?