Welcome to the worlds greatest guide to Women's Swim Shorts. Are you actually looking for women's swim shorts? Well, we hope you are because the reality is that you have found our Women's Swim Shorts page on the topic.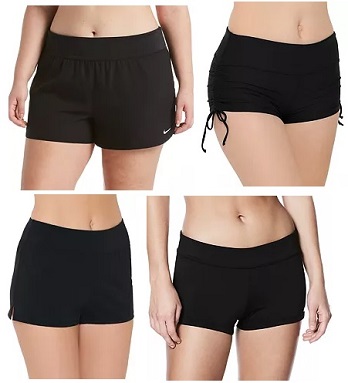 Women's swim shorts are short pants made for swimming and other water activities. For ladies, the shorts are the lower portion of the swimsuit. Swim shorts are a stand-alone swimsuit bottom. They look more like boardshorts than a traditional bikini brief, but they serve the same end-use.
Ladies swim shorts often provide an ideal fit by utilizing an elastic waistbands and drawstrings. This type of swimwear bottom can come in a wide assortment of style options. For example, you can find low-rise, relaxed fit, braided self ties, tummy slimmer, midrise hipster, thigh-minimizer, etc.
Board shorts are a type of swimshort.
Board shorts are typically longer than other types of swim trunks.
Wearing shorts for swimming is a great idea of you are bouncing around in the waves at your favorite beach.
Swimsuit shorts not only offer different looks and fashion elements, but they are designed to help complement your specific body type. Combining the right look with the correct fitting suit can really make your summertime style stand out.
This type of swim pant are generally made from a blend of cotton, lycra, spandex, nylon, polyester, or a similarly light and stretchy synthetic material giving the pants a very soft, smooth, polished and silky finish when worn. They are also preferred to use fast drying fabrics.

Learn more about swimwear in our fashion products section.
You may find the following shopping resources to be of interest: