Welcome to the worlds greatest guide to Women's Tees. Are you looking for ladies tees? Well, we hope you are because you miraculously found our page on the subject. This style of garment is clearly important for any wardrobe.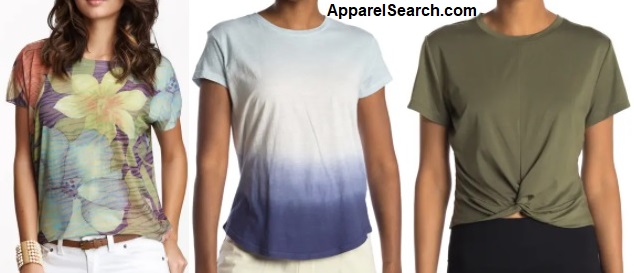 The word tee is a synonym for t-shirt. Incase you are not aware, a synonym is a word that means exactly or nearly the same as another word. A T-shirt, or tee shirt, is a style of shirt named after the "T" shape of its body and sleeves. Yes, when laid flat it slightly resembles the letter.
Women's tees come in various colors, shapes, silhouettes and sizes. They can also be made from a wide variety of fibers & fabrics. Styles vary by collar style, sleeve length, embellishment, fit, etc.
Popular necklines include v-neck & crew neck, but many additional options exist.
Learn about different collar types.
Learn about the various types of sleeves for women's tops.
Learn about the various T-shirt Styles in our fashion industry terminology section.
You can also try the Women's ringer tees or t-shirts sections.

What ever style of top you are wearing today is most certainly in fashion.