Welcome to our trendy guide to Women's Thigh-High Boots. Are you actually looking for more information on this subject? Well, we hope you are because the reality is that you have found our thigh-high boot page. In this fabulous footwear section of the Apparel Search directory, you will find all sorts of interesting information regarding thigh-high boots for women.
What are thigh high boots? Well, what is a "thigh"? Anatomically the thigh is the area between the hip and the knee. When a boot is "thigh high", it goes up the leg above the knee to the height of the wearers thigh.
Similar to other parts of the body, the human thigh comes in a wide variety of sizes. Depending on the size & shape of your thigh and over the knee boot may or may not be comfortable. This type of boot is not for everyone.
Ladies thigh-high boot (over the knee boots) come in a wide variety of materials, colors & styles. You can find lace up, zip up, pull on, etc. Some styles include open toe, high heel, etc.
You are almost sure to turn heads when wearing a fabulous pair of boots. If you take your time to shop your favorite footwear retailers you are sure to find styles featuring luxurious hardware and eye-catching details.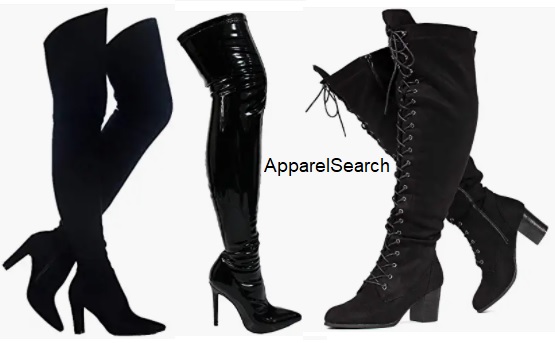 Many designer brands include this style of boot in their collection.
What ever type of footwear you are wearing, is in fashion. If you want to be even more stylish, you should wear your favorite thigh-highs today.
You may also have interest in viewing the Women's Over the knee boots section.

Learn about Women's Fashion.
Apparel Search is a leading guide to fashion, style, clothing, glam and all things relevant to apparel. We hope that you find this women's thigh-high boot page to be helpful.