Long Wool Breeds: Border Leicester
MATURE BODY WEIGHT
Ram 225-300 lb.
Ewe 150-225 lb.
AVERAGE fiber DIAMETER
Micron 38-30
Spinning Count 50-40
GREASE FLEECE WEIGHT
Ewe 8-12 lb.
YIELD
60-70%
STAPLE LENGTH
5-10"

The Border Leicester originated in England from Leicester x Cheviot crosses and is found in the northern U.S. and Canada in high rainfall, good pasture areas. The breed has been used throughout the world to sire crossbred females. They are medium to large with a white face and bare head and legs. They are moderately prolific, good milkers and mothers. Border Leicesters yield a long-stapled, lustrous, coarse wool that is much in demand by handspinners.

Registrations - Previous five year average, 478
Wool Definition Wool Research Wool fiber
Search for additional information about Apparel, Fashion or Clothing.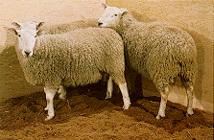 If you wish to education yourself further in regard to textiles or fibers, we suggest you check our Fashion School Directory. The Fashion Schools educate regarding fashion as well as textiles...