Dual Purpose Breeds: Panama
MATURE BODY WEIGHT
Ram 250-280 lb.
Ewe 180-210 lb.
AVERAGE FIBER DIAMETER
Micron 30-25
Spinning Count 58-50
GREASE FLEECE WEIGHT
Ewe 13-15 lb.
YIELD
45-55%
STAPLE LENGTH
3-5"

Originating in Idaho in the early 1900's, the Panama began as a cross between Rambouillet rams and Lincoln ewes. Following approximately five years of crossbreeding, rams and ewes were inter se mated to establish the breed. The Panama is a hardy breed that is highly adapted to range areas with ample feed conditions. They are polled, resemble the Columbia breed but are more intermediate in size and produce a heavy, dense medium-grade fleece with a long staple length.

Learn more about sheep & wool from the following resources.
Search for additional information about Apparel, Fashion or Clothing.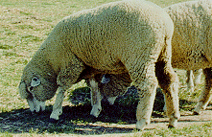 If you wish to education yourself further in regard to textiles or fibers, we suggest you check our Fashion School Directory. The Fashion Schools educate regarding fashion as well as textiles...
After you learn all you need to know about fashion and textiles, you may wish to check out the following career websites to find a career in fashion: