Diane von Fürstenberg was born Diane Simone Michelle Halfin on December 31, 1946, in Brussels, Belgium. One of the world's most successful fashion designers, von Fürstenberg impressed the fashion world when she introduced her now-iconic "wrap dress" for the working woman in 1972.
In 1966, she transferred to the University of Geneva, where she met Prince Eduard Egon von Furstenberg, heir to the Fiat automobile fortune. The couple quickly fell in love and married. She and Prince Egon separated in 1975 and divorced in 1983.
As Princess von Fürstenberg, she apprenticed with Italian textile manufacturer Angelo Ferretti. The von Fürstenbergs moved to New York City in late 1969, where Diane attempted to interest garment manufacturers in her sample designs.
In April 1970 von Fürstenberg showed her first collection at the Gotham Hotel in New York City. Because she had little experience in producing clothes on a large scale, von Furstenberg at first worked with major women's clothing manufacturers, but in April 1972 she established her own manufacturing business.
By the mid 1970s, von Fürstenberg's "wrap dress" had revolutionized American women's apparel. It was versatile—working as both a comfortable business dress and an elegant evening gown. Furstenberg became a powerful fashion icon in the 70s by acknowledging the needs of a growing number of career-minded women.
The designer is married to media mogul and billionaire philanthropist Barry Diller.
Her collections are sold in over 55 countries, and she's dressed such fashionistas as Michelle Obama and Gwyneth Paltrow.
Apparel Search presents Diane von Furstenberg fashion designer profiles.
| | |
| --- | --- |
| Bing Search Results: | Google Search Results: |
| | |
Apparel Search guide to Diane von Furstenberg Profiles photos, Diane von Furstenberg Profiles videos, Diane von Furstenberg Profiles news, Diane von Furstenberg Profiles blog posts and more... If you are interested in fashion and style, you will be interested in Diane von Furstenberg Profiles.
Visit the Diane von Furstenberg official website.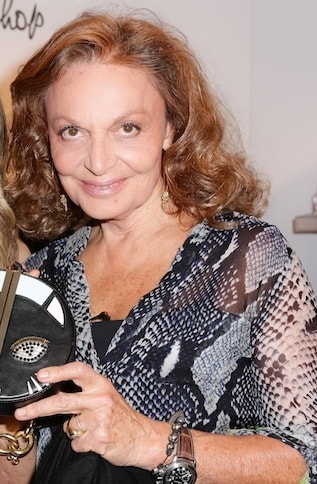 We hope that you have enjoyed learning about fashion designer Diane von Furstenberg profiles.
Return to the Fashion Designer section. Or search for designers by the fashion designers name.
Research additional popular designers from our alphabetic fashion designer list.
In the opinion of Apparel Search, fashion should be designed with a few primary concepts in mind. The garments should be glamorous, practical, comfortable, stylish, and in the right weight and color. If designers follow these rules they will present only sumptuous and striking fashion.
When selecting designer fashions, please make sure that you select clothing that is appropriate for the occasion.
See what the fashion celebrities are wearing. They love wearing designer fashion.