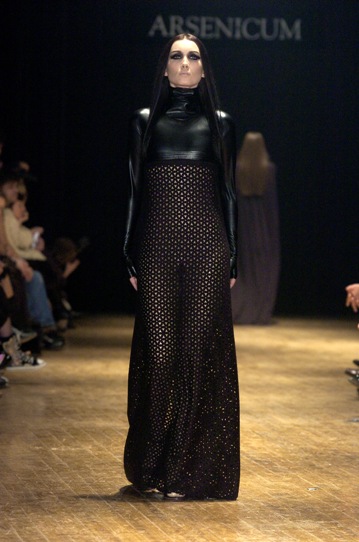 Apr., 2002 - "Generation "М" content. Grand-Prix. Special prize from L'Officiel (probation period in the magazine). Special prize from the British Council (visit to London Fashion Week). Collection "Lights of the Big City".

June 2002 - "Golden Strand" interregional festival, presentation of "Modern Charm of Totalitarianism" collection.

Sept., 2002-Oct., 2003 - L'Officiel Magazine. Stylist.

July 2003 - Staging of "I.O." play, stage director Kirill Serebrennikov. Costume artist.
Oct., 2003 - March 2004 - ОМ Magazine. Fashion Editor.
Since March 2004 - Creative Director of "Arsenicum by Enton" trade mark.

2003-2005 - stylist at May Fashion - "100 Most Beautiful People in Moscow", Event by Andrey Fomin.
Learn more about Russian Fashion Week from their official web site at

www.rfw.ru



pictures are by Maria Valentino firstview Provided by Russian Fashion Week
Dmitry Loginov (Arsenicum by Enton)
Sept., 1993-Sept., 1996 - Krasnoyarsky State Technological Institute. Profession: designer of men's, women's and child clothes.

Sept., 1996-Sept., 1997 - "Rika" studio. Cutter of men's and women's clothes.

Sept., 1997-Sept., 2002 - Studio of Dmitry Loginov's. Individual and special orders including style and uniform for the Governor's Club in Krasnoyarsk; uniform for the entertainment center ""Krasnoyarsk" planet"; uniform for the Central Air Message Agency; style and uniform for "Country" cafe; style and uniform "Visage" perfume shops net.

Feb., 2000 - Award-winner of a regional round of the "Russian Silhouette" content. Special award of MTV TV-Channel and "Europa plus" radio station. "Double Take" collection.

June 2000 - "Natsiya 2000" (Nation 2000). Presentation of Piccadilly line collection. "Best designer-stylist of the year" Award.

Feb., 2001 - "Generation "М" content. Special prize of "Russian Wave" radio station. "Arsenicum" collection.

Apr., 2001 - "Golden Strand" international festival, presentation of "In the Epicenter of Rumors" collection.
J
une 2001 - presentation of "Back to the Past" collection.

Nov., 2001 - Regional round of "Elite Model Look" content. Costumes artist and stylist.