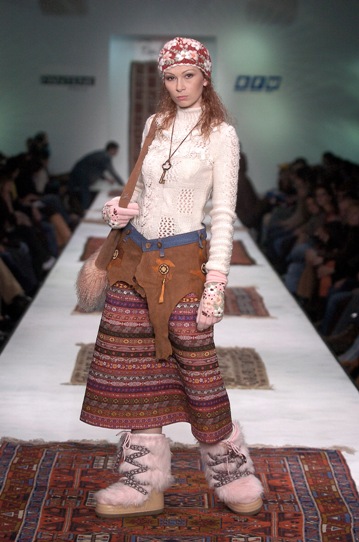 Razumikhina accepts and carries out orders from different boutiques worldwide. Her clothes is on sale at the most famous department stores and shops of different nations: Barneys New York, Takashimaya, Sharis Place (New York), Browns, Libnerty (London, UK), Victoire, Onward (Paris), Marisa, 2Link (Milan), The Bay (Toronto, Canada), Joyce, Lane Crawford (Hong Kong), Barneys Japan, Aquagirl, Shiseido, Paragraph, The Epoca (Japan), etc. (See STOCKISTS at www.razumikhina.com).
You can also see the 2005 collection; Daria Razumikhina 2005
Learn more about Russian Fashion Week from their official web site at www.rfw.ru

pictures are by Maria Valentino
firstview
Provided by Russian Fashion Week

Razu Mikhina is the trademark and logo of designer Daria Razumikhina. Daria was born and grew up in Moscow, graduated from Moscow University and is the Candidate Doctor of Philology (PhD in philology). From 1995 to 1999 studied design at the 'star' Saint-Martin's College in London where Alexander McQueen, John Galliano, Rifat Ozbek, Hussein Chalayan and Stella McCartney graduated from.

She presented her first collection in Moscow in January 1999. Daria took part at the Pret-a-Porter Salon in Paris and became the first Russian designer to take part at London Designer Exhibition in September 1999.

The latest season collections are presented in Milan's Showroom KY.P MILANO: VIA TORTONA 31, INT 13, 20144 MILAN, ITALY, TEL. +39 02 76390209, FAX: +39 02 36568239.