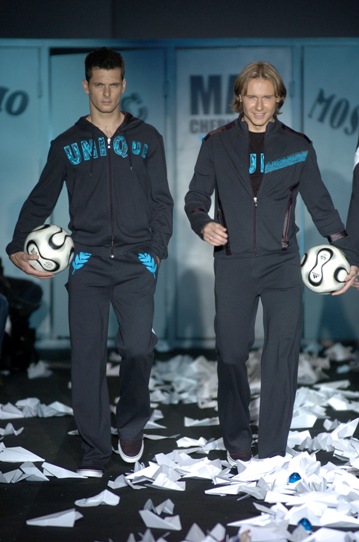 Since 2003 has been working upon the creation of the men's collection "MAX CHERNITSOV" (starting from spring/summer 2005 season has been creating women's collection of the same brand).

2004 cooperated with women's clothes brand "KOKOGEM Gallery", working at creativity agency Husky Promotions.
You can view last years collection at Max Chernitsov 2005
Learn more about Russian Fashion Week from their official web site at www.rfw.ru

pictures are by Maria Valentino
firstview
Provided by Russian Fashion Week
Maksim Chernitsov 27 years old. Born in Magnitogorsk. A-graduate of Magnitogorsk State Teacher's Training College.

2002 defended Ph. D. Thesis "Idea of Art Synthesis in works of literature and theoretical works of artists of Russian avant-garde of the early 20th century" dedicated to the creative works of Kandinsky, Philonov, Malevich. 2000-2002 was one of the organizers of the avant-guard fashion festival "Polovodje" (Magnitogorsk).
2001 - 2d award at the Russian final of the "Smirnoff International Fashion Awards" content (Russia, national final).